HubSpot Takes Top Spot at Annual Search Engine Marketing Conference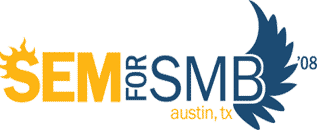 HubSpot, an inbound Internet marketing company helping businesses improve the marketing effectiveness of their websites, has assumed the Platinum sponsor-level for the SEM for SMB Conference to be held in Austin, Texas on July 16th and 17th, 2008. Held at the Hilton in downtown Austin, SEM for SMB will introduce innovative approaches to the traditional conference formula.
HubSpot's Internet Marketing software system helps small-to-mid-sized companies enhance their website to get found by more potential customers and generate more leads and sales online. Complete with search engine optimization, blogging, lead intelligence, and marketing analytics tools, HubSpot helps marketers be more efficient and turns websites into marketing lead magnets.
"We are proud to have HubSpot as our Platinum Sponsor for SEM for SMB 2008. Their participation represents a growing need to empower small businesses through search engine marketing and HubSpot is a premiere solution in the industry", say Christopher Justice, Chief Executive Officer of Sparksight and Chairman of SEM for SMB.
"HubSpot provides unique value and hopes to serve the attendees at the SEM for SMB conference with prescriptive education that builds stronger and more visible businesses," says Mike Volpe - Vice President of Marketing, HubSpot Inc.
The conference is sponsored by HubSpot, Austin Chamber of Commerce, Austin Interactive Marketing Association, Texas State University, Sparksight, GetPageOne, Spoonbend, Wildwood Interactive and Envision Creative. For more information, visit the SEMforSMB Conference Website.
About SEM for SMB
SEM for SMB is geared towards small- and medium-sized businesses—-throughout the world and in all stages of growth—-that depend on public web sites, local advertising, and search engines for visibility. Conference participants will receive highly targeted presentations with no sales pitches. Speakers have been carefully selected for their style, expertise and practical experience with search engine optimization, search engine marketing, pay-per-click advertising and copywriting. For more information, visit
http://www.semforsmb.com.
About HubSpot
HubSpot is an inbound marketing system that helps businesses get found online, generate more inbound prospects and convert a higher percentage of them into leads and customers. HubSpot helps companies get found by more prospects using search engine optimization and marketing, leveraging blogs and the blogosphere and engaging in online social media. By using landing pages, lead intelligence and marketing analytics, HubSpot customers convert more prospects into leads and customers. Based in Cambridge, MA, HubSpot Internet marketing can be found at
http://www.hubspot.com
and the Website Grader free SEO tool is available at
http://www.websitegrader.com.
About Sparksight, Inc.
Sparksight offers interactive marketing and event management services that help organizations deliver compelling experiences online and in-person. Sparksight employs the most talented and inventive graphic designers, videographers, web programmers and writers in the industry. For additional information, visit
http://www.sparksight.com.