Quantum Analytics and LEAP Technologies Align to Bring Customized Automation with Rental and Lease Options to Chromatography and Mass Spectroscopy Laboratories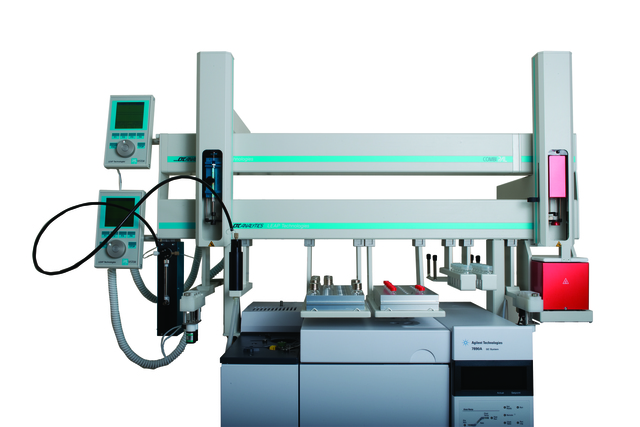 Quantum Analytics (Foster City, CA) and LEAP Technologies (Carrboro, NC) announce a co-marketing partnership to offer efficiency improving chromatography and mass spectrometer systems, including new developments in front-end automation. By coordinating their technical staff and sales forces, both instrument suppliers will be able to offer complete and highly automated analytical solutions.
Both companies have large existing customer bases in the Research, Environmental, Pharmaceutical, Food Safety and Quality Control laboratories, and have seen an increased demand across these markets for automation systems which can take advantage of higher sensitivities and specificities of the latest Chromatography systems. The LEAP automated systems provide dilution, filtration and solid phase extraction which minimize sample handling bottle necks.
Gerry Farren, President and CEO of Quantum Analytics states, "This alliance will provide our customers with access to more efficient GC and LC systems . Quantum's unique Rental and Leasing plans will enable customers to acquire these systems without major capital outlay".
Werner Martin, President of LEAP states, "A more formal co-marketing effort with Quantum will benefit our customers by providing them the option to purchase, rent or lease a complete system with integrated LEAP sample/liquid handling options instead of buying separately from multiple vendors." LEAP and Quantum will focus on growing their respective businesses by integrating Quantum's analytical equipment with LEAPs sample loading and preparation systems.
About Quantum Analytics:
Quantum Analytics is a value added distributor of analytical systems specializing in renting and leasing. Quantum provides integrated Thermal Desorption, Pyrolysis and Purge and Trap systems installed and supported by vendor-trained product specialists. Quantum is a major Agilent channel partner and Agilent support provider.
http://www.lqa.com
About LEAP Technologies:
LEAP Technologies has been a main stay in the chromatography related sample prep and autosampler market for the last 18 years. Based in North Carolina with ties to automation companies such as CTC Analytics and Infotech AG, LEAP has been an innovation leader and has contributed to efficiency gains in Food, Environmental, and Pharmaceutical product testing. Research and new product formulation was improved by applying LEAP robotic equipment to gas and liquid chromatographs and as work stations for periodic sampling. The LEAP staff has a reputation of excellent support with a high tech and high touch approach.
http://www.leaptec.com