School Furniture Ships in Five Days or Freight is Paid by Hertz Furniture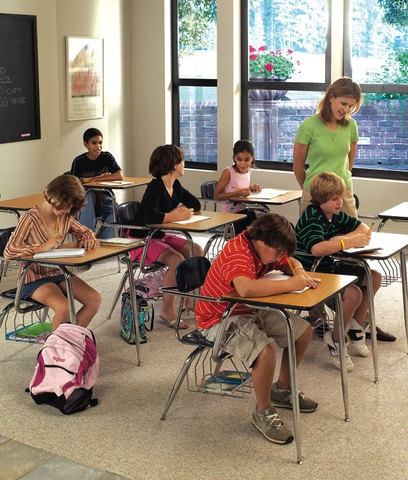 Mahwah, NJ July 25, 2008. With school out for the summer, school administrators can take advantage of Hertz Furniture's 5-Day Shipping Program that guarantees all 5-Day items will ship within five business days or Hertz Furniture pays all of the customer's freight charges. That's no small offer. On a typical order of
school furniture
, shipping can add up to be 25% of the order.
Hertz Furniture's President, Mr. Saul Wagner, explains, "We're well aware of the back-to-school rush this time of year and we designed this program to ensure that our schools will have their core furniture products immediately. We've stocked our warehouses and are ready to fill these orders as quickly as possible. Our 5-Day Shipping Program helps to ensure that orders will be on site before school starts again."
5-Day Shipping items include all of the most popular furniture schools typically need in a hurry. Desks, chairs, combos, tables, computer furniture, library furniture, marker boards, portable partitions and more… the list is comprehensive. Whether a school is re-doing the library, adding round tables to a cafeteria, or getting ready for a jump in registrations, this program helps schools get what they need, when they need it. A complete listing of models is posted on the
Hertz Furniture website
, making it easy for customers to see everything that is included, all in one convenient spot.
As an added bonus for harried school administrators, Hertz Furniture offers a complimentary gift selection to customers whose 5-Day orders exceed $2,500. These customers can choose a leather office chair, an attaché case with built-in PA and microphones, or a $50 VISA Gift Card. In addition to expedited order processing, Hertz Furniture offers special pricing on many of the items included in this classroom furniture promotion. Quick shipping + great pricing + the possibility of a free gift = 3 great reasons to check out Hertz Furniture's
5-Day Shipping Program
today.
About Hertz Furniture
For over 40 years Hertz Furniture has supplied schools, religious institutions, businesses and government offices with top quality products and superior customer service. Speedy Quotes, many Quick Ship products, a Price Guarantee and a free Space Planning Service are just a few of the ways that Hertz Furniture provides value to its customers. For additional information on Hertz Furniture and its extensive line of products, please visit HertzFurniture.com, speak to a furniture specialist at 800-526-4677, or send an email to
linda@hertzfurniture.com
.