Future Survey Editor Michael Marien Receives World Future Society Distinguished Service Award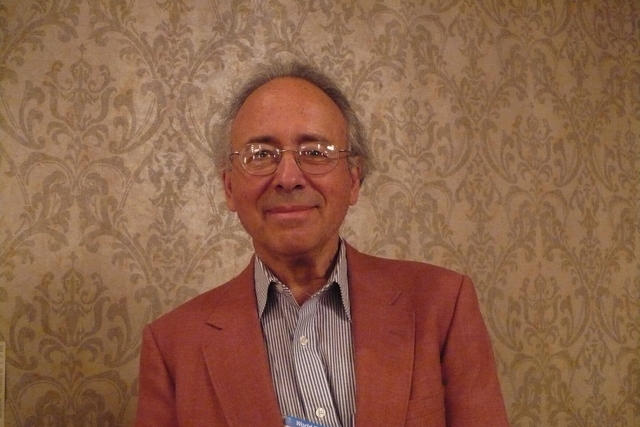 Bethesda, Maryland — Michael Marien, long-time editor of Future Survey, received a distinguished service award from World Future Society President Tim Mack during the closing session of WorldFuture 2008 in Washington, D.C., July 28. Marien served as editor of the Future Survey newsletter since 1979. He will retire by the end of 2008.
In his acceptance speech at the Washington Hilton, Marien thanked World Future Society founder Ed Cornish, for "allowing me complete freedom" in creating and editing Future Survey, an experience he described as "thirty years of unsupervised play."
Future Survey has received accolades from such writers as Washington Post columnist Joel Garreau and Kevin Kelly, former editor at Wired magazine.
In 2005, Kelly declared on his Web site, Cool Tools, "Michael Marien summaries the current crop of future-oriented books and articles. Because he seems to read and see EVERYTHING published in the realm of the Next, no matter how obscure or academic, his comparative evaluations of books are astoundingly useful. Each issue I usually discover one or two great works of forecasting I had not known about. But more importantly, Future Survey extracts the key ideas from piles of mediocre books — books I no longer have to bother with. Marien synthesizes these reviews into emerging notions, which then become indispensable for tracking mega trends, not mere fashions and fads. Marien has been doing this for 20 years, and his database of 5,000 reviews (available online) is as good a history of the future as we have. For his almost single-handed crusade to tame the uncertainty of what-is-coming, Marien should get a medal."
A YouTube video of Marien's acceptance speech is available here:
http://www.youtube.com/watch?v=VS08s2ttR7Q
Founded in 1966 as a nonprofit educational and scientific organization in Washington, D.C., the World Future Society has members in more than eighty countries around the world. Individuals and groups from all nations are eligible to join the Society and participate in its programs and activities.
The Society holds a two-day, international conference once a year where participants discuss foresight techniques and global trends that are influencing the future. Previous conference attendees have included future U.S. President Gerald Ford (1974), Massachusetts Senator Edward M. Kennedy (1975), behavioral psychologist B.F. Skinner (1984), age-wave expert Ken Dychtwald (2005), U.S. comptroller general David M. Walker (2006), and scientist and inventor Ray Kurzweil (2006).
For information about WorldFuture 2008, contact the World Future Society at 1-301-656-8274 or e-mail director of communications Patrick Tucker,
ptucker@wfs.org
, or Susan Echard,
sechard@wfs.org
, vice president for membership and conference operations, or check the World Future Society's Web site,
www.wfs.org
, where videos from WorldFuture 2008 are available online.
Email World Future Society