Marketplace Books Publishes Trading Systems Explained: How to Build Reliable Technical Systems by Martin Pring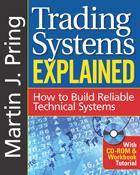 Martin Pring, distinguished trader and trailblazer in technical analysis, has just released his book Trading Systems Explained: How to Build Reliable Technical Systems through Marketplace Books. In the book, Pring reveals innovative techniques that will enable traders to both understand what makes an existing trading system work, but more importantly how to develop one that is effective and fits well with that trader's unique style. Pring never claims that these systems will be 100% accurate, but shows that by letting the winners run and cutting the losers short, a well designed system can be an extremely effective trading tool. This book can be purchased at
www.TradersLibrary.com.
The book outlines some clear parameters for the traders to work within while developing a trading system. The basis he starts from is that a rigorously tested system is the bedrock of any successful trading system. He shows how important it is to first test with back data, then with historical data, and finally after extensive testing, apply them to the markets. In the book he shares the methodology behind systems based trading and explains how it leads to disciplined-based trading rather than emotion-based.
The companion tutorial comes with a CD-ROM, giving readers yet another way to absorb this valuable information. This combination provides distinct advantages to interactive learners, as readers benefit from in-depth research, instant reference, and interactive review. Martin Pring first entered the financial markets in 1969 and has since become known as a pioneer in the field of technical analysis. Barron's called him a "technician's technician" and he continues to live up to this name servicing the industry with a wide range of valuable trading products geared towards technical analysis. During his 39 years of trading, Pring has authored over a dozen popular trading books including the runaway hit, Technical Analysis Explained, which is now in its fourth edition. Pring currently serves as president of Pring Research and lends his editorial skills to The Intermarket Review newsletter. In 2007, Pring was awarded the Hall of Fame award at the annual Traders' Library Forum. This year's event details can be found at
www.tlforum.com.
###
Based in Columbia, Maryland, Marketplace Books is the premier publisher of investment and trading material. Marketplace Books has been serving the needs of investors, professional traders, and financial advisors since 1995, often partnering with key industry players in the investment world. Traders' Library is the preferred online bookstore for Marketplace Books products.
Marketplace Books
Traders' Library
9002 Red Branch Road
Columbia, Maryland 21045
www.marketplacebooks.com
www.traderslibrary.com