Versa Technology announces new Ethernet Extender series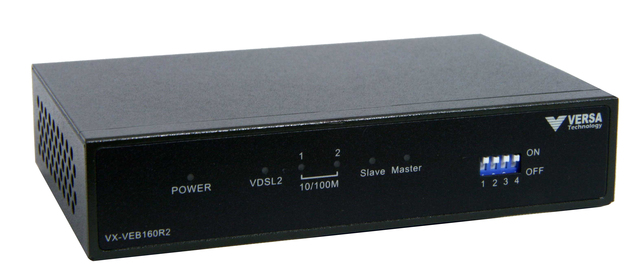 August 15, 2008, Chino CA - Versa Technology (
www.versatek.com
) is pleased to announce a new addition to its product line, the VX-VEB160R2. The VX-VEB160R2 Extends Ethernet up to 300 meters at 100Mbps downstream, 55 Mbps upstream and 1km with speeds of 30mbps/6mbps, respectively. The VX-VEB160R2 Ethernet Extender has a switching architecture that supports two RJ-45 Ethernet port for data and two RJ-11 phone jacks; one for the VDSL connection and one for POTS (Plain Old Telephone Service) connection.
As bandwidth needs increase, especially with IPTV Triple Play video becoming more and more commonplace, the VX-VEB160R2 can fill in the gaps and cut cost by over 1000% versus digging for new fiber. Using just standard twisted pair while supplying up to 100Mbps, the VX-VEB160R2 really extends the network with the ability to provide up to four 100 Mbps connections on a single Cat 5e cable using four CO devices and four CPE devices.
The VX-VEB160R2 also provides the following:
• One box design, CO / CPE selectable via DIP Switch;
• Supports up to 1536 bytes packet size, IEEE 802.1Q VLAN tag transparent;
• Selectable target data rate and target SNR margin.
"While network capacity is growing exponentially, so has the cost of developing new network infrastructures. The VX-VEB160R2 Ethernet Extender allows operators to leverage existing copper lines, to provide triple play bandwidth to the end user." Said Michael Lui, Vice President of North American Sales, about why this product will help operators in North America grow. "Not only does this give operators a cost effective solution but it also gives them a 'Swiss Army Knife' when building new networks with a pre-existing infrastructure."
Ethostream (
www.ethostream.com
), a Telkonet Company, is already using the product to deploy high speed internet access to hotel guest across the country. "We are extremely excited with the flexibility the VX-VEB160R2 gives us. Being able to take advantage of the existing copper infrastructure to deliver Ethernet speeds at a low cost allows us to gain the upper hand," explains Matt Koch, Vice President of Hospitality Solutions. "Sometimes retrofitting existing networks isn't as easy as running new cable or fiber and with construction cost often breaking the bank, the VX-VEB160R2 allows us to update existing networks while adding little cost to the customer."
Availability and Testing
The VX-VEB160R2 is available now and is already being deployed in networks across the world. Currently products are offered with a free 30 day trial to ensure that you get exactly what you are paying for.
Magnets
One of the great features about the VX-VEB160R2 on the bottom of the unit, this way they can be mounted to anything from a Managed switch to a Rail in a central office.
About Versa Technology
Versa Technology, located in Chino, California, is a company that provides both fiber and copper for last mile solution. With worldwide offices in Korea, China and the United States, Versa Technology has taken advantage of the global marketplace to grow at an amazing pace. Versa Technology provides a wide range of copper solutions, giving service providers the choice of ADSL2+, VDSL and VDSL2. Versa Technology also provides FTTH Solutions to providers looking to deploy next generation fiber optic networks. Versa Technology is one of the few companies in the world that can provide the complete last mile solution.
Email Versa Technology, Inc.