Precise Entries and Exits: The Guide to Average True Range and Average Directional Index Course Featuring Charles LeBeau Released By Marketplace Books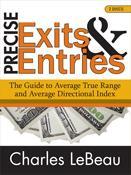 Charles LeBeau, often considered the master of the exit strategy, has just released a new two disk trading DVD entitled Precise Entries and Exits: The Guide to Average True Range and Average Directional Index through Marketplace Books, a leading provider of educational material for traders. In his new DVD, LeBeau guides his audience through multiple strategies allowing them to adapt with market changes, giving them a workable strategy regardless of market direction. In the DVD LeBeau shares powerful trading tools: the Average Directional Index (ADX) and the Average True Range (ATR), giving his audience a clear guide to applying these tools with a high degree of accuracy.
LeBeau walks viewers through the entire trading process and explains what should be going through a traders' mind, from the setup all the way to the exit strategy. His first step is to explain that different strategies must be applied according to ever changing market conditions. He goes on to explain that to be most useful, market conditions must be considered within the context of the trader's time frame.. LeBeau makes a point to thoroughly cover the Average Direction Index and the Average True Range because he believes that these tools alone give traders a major edge in today's market. Well-known for his exit strategies, LeBeau spends considerable time covering this topic. Finally, he touches on a other key parts that should be included in any trading strategy, including position sizing and performance monitoring. This knowledge-packed DVD course offers a great combination of techniques that are conducive to a successful trading experience.
Precise Entries and Exits is presented in a clear and concise manner giving viewers step-by-step instructions and time-tested principles that can be applied to their trading from day one. Along with the DVD, buyers will also gain access to the Trade Secrets website, where they can download Power Point slides, allowing them to follow along and take notes during this incredibly informative presentation. This DVD can be purchased at
www.TradersLibrary.com.
Charles Le Beau, a 40-year veteran of the markets and one of the most important figures of early systems trading, has continually been a force in trading education over the course of his illustrious trading career. Chuck's writing has been featured in a variety of publications focused on technical analysis and quantitative engineering and he has been educating traders in his precise methods for decades. He continues to offer a wide range of products for traders' education through his websites at TraderClub.com and SmartStops.net. ###
Based in Columbia, Maryland, Marketplace Books is the premier publisher of investment and trading material. Marketplace Books has been serving the needs of investors, professional traders, and financial advisors since 1995, often partnering with key industry players in the investment world. Traders' Library is the preferred online bookstore for Marketplace Books products.
Marketplace Books
Traders' Library
9002 Red Branch Road
Columbia, Maryland 21045
www.marketplacebooks.com