XDepth® High Dynamic Range Video Compression Technology on the Market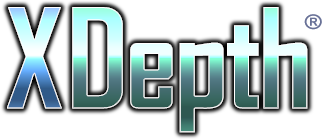 Trellis Management Co. Ltd. presents the world's first commercially available and backward-compatible High Dynamic Range Video compression technology.
The ongoing research and development involving XDepth technologies brought a whole new set of solutions to the light.
Today Trellis Management demonstrates on its XDepth website, at
www.xdepth.com
, the world's first commercially available High Dynamic Range Video compression technology.
XDepth HDR-Video is a complete, multi-compatible HDR Video encoding and real-time playback solution engineered to work with any standard video codec on the market, either lossy or lossless.
Conversely to other technologies, XDepth HDR-Video isn't "tone mapping" dependant and offers an outstanding quality to file-size ratio.
XDepth HDR-Video files can thus be encoded in any known video format, from Mpeg-1 up to the latest Mpeg-4 and H.264, always resulting in a backward-compatible AVI file that can be normally played by any standard Media Player.
The peculiar efficiency of the XDepth HDR-Video encoding technology allows for complete HDR luma and chroma recovery at a fraction of the computations required by other solutions and HDR Video AVI files to always weigh very similarly to their standard 24bit/pixel counterpart.
The XDepth HDR-Video Player is built over the latest technologies and allows the execution of custom filters over the whole video stream in real-time.
High Dynamic Range Video compression technologies find their best applications in advanced surveillance systems, military applications, high-contrast video capturing for scientific analysis or entertainment purposes, HDR Display devices, 3D rendering and video editing within the multimedia production industry.
The availability of XDepth HDR-Video technologies will drastically reduce the need for expensive high-speed data- transfer interfaces, enormous amounts of storage devices, solid memories and custom video codecs, usually required when capturing, compressing and storing video at non-standard high bit-depths.
Interested parties can contact XDepth personnel and managers for more information through our contact page at:
www.xdepth.com/contact.php
Email Trellis Management Co. Ltd.