Freshare.net Now Focused on Exploring the Ozarks Outdoors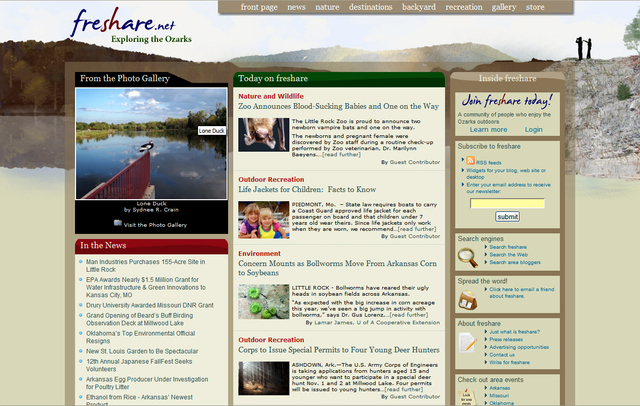 SPRINGFIELD, MO - Have a fresh look at one of the Ozarks' most precious resources as freshare.net builds a community passionate about the outdoors. Whether it is news about the environment, tips on gardening, stories about nature and wildlife, or even ways to experience the outdoors in your own backyard, freshare.net is there.
Freshare.net is not a typical hunting or fishing site often associated with the outdoors. The site covers recreation and hobbies but it also delves into the issues facing this growing area of the country as ethanol plants locate to the region, concerns mount over population increases, and the Ozarks' water supply and air are affected. "We try to strike a balance between the lighthearted fun of enjoying the Ozarks outdoors and how we protect our pristine beauty," said freshare.net publisher Bob Korpella.
Having begun life last year as a new media, general news site for the area, freshare.net discovered its voice was more suited to be an advocate for the outdoors life. "We still consider ourselves a new media site," said Korpella. "We like our readers to become writers, too, if they wish and share information they have about the Ozarks outdoors."
Readers are invited to comment on any of the articles they find on freshare.net. In addition, a free membership to the site offers individuals an opportunity to submit their own articles if they would like. Members can also upload their photos to the freshare.net photo galleries.
"The photo gallery is very popular among our readers," Korpella said. "We've got images in the gallery that are breathtaking. Our photographers capture the beauty, sometimes the whimsy of the Ozarks."
Life in the Ozarks is woven into the surrounding beauty of the area. Freshare.net celebrates that lifestyle.
Email Korpella Publishing, LLC