Marketplace Books Releases Schwager's Popular Market Wizard Trading Series in Hardback Editions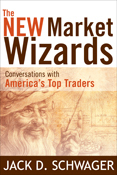 Marketplace Books, a leading provider of traders' educational materials, has acquired the rights to publish Jack Schwager's popular hardcover trading series: Market Wizards, The New Market Wizards, and Stock Market Wizards. These three books are highly regarded in the trading community and will allow Marketplace books to expand their book selection to better serve the trading community. The series can be purchased at
www.TradersLibrary.com.
Market Wizards: Interviews with Top Traders was Schwager's first book, delving into the analysis of several successful traders. After working in the markets for years, Schwager noticed that the successful traders succeeded using a variety of methods, yet he realized some common threads they shared, most notably, attitude. In the book, Schwager walks readers through the diverse lives of these characters, sharing their inspiring stories and giving readers a better understanding of what it takes to succeed.
The New Market Wizards: Conversations with America's Top Traders is the sequel to Market Wizards,which quickly became a bestseller and now forms the cornerstone of Schwager's foray into the minds of successful traders. In this continuation of the series, Schwager continues by sharing the stories of a new group of successful investors. He shares their thoughts and theories and gives the reader a wild ride down Wall Street.
Stock Market Wizards: Interviews with America's Top 10 concludes the Market Wizards trilogy. In the book, he covers the stories of 12 legendary traders who survived the most dynamic bull market in US stock history– as well as a collapse in commodity prices, dramatic failures in some of the world's leading hedge funds, the burst of the internet bubble, a fall into recession and the subsequent rumblings of recovery. This book brings many of the modern dynamics of today's complex markets into play. The combination of these three books inspires readers to advance their trading strategies and reinforces Marketplace Books' distinct role in shaping successful traders.
Jack Schwager, popular author and Wall Street veteran, has had been involved with various aspects of the market for over 30 years. In addition to these landmark trading books, he has written countless articles covering futures, technical analysis, and the analysis of successful trading. He is currently serving as the executive director and senior portfolio manager at Fortune Group, an international hedge fund advisory firm. He also continues to lecture on a many topics related to the trading community. ###
Based in Columbia, Maryland, Marketplace Books is the premier publisher of investment and trading material. Marketplace Books has been serving the needs of investors, professional traders, and financial advisors since 1995, often partnering with key industry players in the investment world. Traders' Library is the preferred online bookstore for Marketplace Books products.
Marketplace Books
Traders' Library
9002 Red Branch Road
Columbia, Maryland 21045
www.marketplacebooks.com
www.traderslibrary.com