Superior Lamp Awarded Torch Seal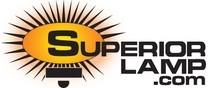 Superior Lamp was recently awarded the prestigious Torch Seal, awarded by the Better Business Bureau and given in recognition of excellence for outstanding product design, innovation, and uncompromising standards in company ethics, environmental responsibility and community service.
The Mount Laurel, New Jersey-based Superior Lamp Company serves clients throughout the North American market. Established in 1977, the company's mission is to "Marketing the best lighting products in the industry and set the benchmarks for innovation, reliability and performance." With three decades of commitment to this mission, Superior Lamp's industry leadership was recognized with the Better Business Bureau's 2008 Torch Seal.
Superior Lamp built its reputation by serving as an industry stalwart in the production of heavy-duty lighting best known for its advanced design, energy efficiency, environmental safety and quality performance. Superior Lamp offers a wide range of professional lighting solutions with a focus on industrial, institutional, commercial and municipal clientele. According to many of their customers, what makes Superior Lamp so attractive is the company's ability to offer economical, environmental and energy-efficient solutions in its lighting product lineup.
Instead of making their products available only through warehouses, Superior Lamp markets its products for direct purchase – meaning clients get access to great discounts. Although Superior Lamp offers a wide variety of lighting solutions, some of its perennial favorites include Superior Lamp 30-year Lighting Ballasts, Superior Lamp Mercury Vapor Lighting, Superior Lamp High Pressure Sodium Bulbs, Superior Lamp Compact Fluorescent Bulbs, Superior Lamp Fluorescent Tube Lighting, Superior Lamp Incandescent Lighting Products and Superior Lamp Metal Halide Bulbs.
Customers of Superior Lamp all enjoy the products' specially designed and engineered features – including a bulb performance lifespan that lasts up to 18 times longer than the competition's bulbs. Superior Lamp is also known for its specialty bulbs, meaning those requiring a hard to find shape or size can count on Superior Lamp for all their lighting needs.
The Better Business Bureau (BBB) was founded in 1912 and acts as a mutually trusted intermediary between the consumer and businesses. Its purpose is to assist in dispute resolution, facilitating communication and providing information on ethical business practice. According the BBB, its core services include Business Reliability Reports, Dispute Resolution, Truth in Advertising, Consumer and Business Education and Charity Review.
The Torch Logo is one of the highest seals accredited by the BBB. Only a limited number of quality companies are allowed to use this seal in their marketing and in their publicity materials. The BBB further grants the use of the Torch Seal as an indicator of the qualifying company's commitment to high standards of excellence for trust, performance and integrity. Additionally, the Torch Seal is a stepping stone into the eye of the BBB and its business grading as well as its continuing march to provide the business community with top notch service.
Media Contact:
Superior Lamp
Tom Mosher
800-257-8353
personnel@superiorlamp.com
http://www.merchantcircle.com/business/Superior.Lamp.800-257-8353