Active Medical Supply Inc. Escapes Medicare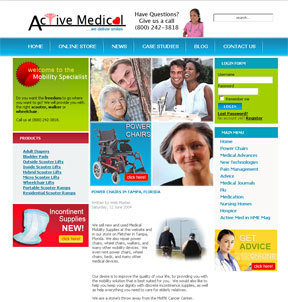 Active Medical Supply Inc. is now rolling out its new website and online store to create a one-stop educational, social, and commercial resource and to escape over-reliance on Medicare and insurance by diversifying its sources of income.
Nelson Stone bought Active Medical Supply Inc. because he had become personally acquainted with the needs and hardships of the elderly, the disabled, and their caretakers. Taking care of his mother and his aunt while working full-time as an engineer was difficult enough, but when Stone's mother slipped into a terminal four-year sickness that required 24/7 care, he really had to scramble to find home medical resources that were practical and affordable. After that struggle, going into the home health business "became my resolve," he says.
Stone bought his business intending to make it practical and easily accessible online. He is having his website (
http://www.activemedicalsupplyinc.com/
) designed in stages to include relevant news articles, a medical supply blog, and links to helpful resources. "Many of these people feel all alone," he says of special needs people and their caretakers. "And I want to provide education and community, along with all the material things you just have to have in these situations."
Stone finally chose to buy Active Medical Supply Inc., after a year-and-a-half search, because its nine years of previous operation had been characterized by integrity and careful record-keeping. Filling out all Medicare and insurance paperwork properly and keeping accurate files is one of the huge hidden costs of the medical supply business, but a cost that's necessary to connect some customers to the equipment they desperately need. In addition, Stone's careful record-keeping enables him to fully support every product he sells.
Coming into the industry with a fresh business perspective, though, Stone became even more convinced that limiting his percentage of income from Medicare and insurance was essential. He estimates that durable medical companies, on average, rely on Medicare for 60% of their income, but he feels that the administrative burden and delayed payment of Medicare-compounded by its new bidding process-make life hard for both medical businesses and customers. While he gladly accommodates customers coming through his Tampa, Florida, doors who rely on Medicare and insurance, the online business will be, he says, on a "good, old-fashioned American cash basis."
His goal is to have not more than 2% of his income coming from any one entity, a diversification that will allow him to keep his prices stable, not fluctuating with the changing rates and policies of Medicare, HMOs, and insurance companies. Since most durable medical companies follow the industry norms of billing the government or insurance, Stone sees great potential in direct marketing via the web to hospitals, nursing homes, and individual elderly, disabled, and caretakers. "It's there, people want it," he says, "and I'm not stuck on billing the government."
Active Medical Supply Inc.'s online store will focus on supplies for incontinence, wound care, diabetes, and other basic medical needs, all products discreetly shipped to customers' homes. Stone has his Veterans Certification and his Small Business Association Certification, and he is completing his durable medical goods accreditation. His fresh approach to the durable medical equipment business has already been noticed by HME Business, a leading journal in the field.
Having been on both sides of the medical supply business, Stone hopes the website and the online store will be a win-win scenario. "I want this business to succeed, but I don't want any part of greed. People who need my products have enough to deal with as it is. I just want to make their job, their life, a little easier."
Email Active Medical Supply, Inc.