LSS Data Systems Customer Watertown Regional Medical Center Achieves HIMSS Stage 6 EMR Recognition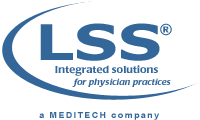 Eden Prairie, MN - September 11, 2008 - LSS Data Systems (
http://www.lssdata.com
), a developer of
electronic health records
and
physician practice management software
, congratulates UW Health Partners-Watertown Regional Medical Center (WRMC) in Watertown, Wisconsin for being among the top 1% of hospitals in the United States to achieve the prestigious Stage 6 EMR (electronic medical record) adoption recognition from HIMSS Analytics. The site joins Citizens Memorial Healthcare (Bolivar, MO) as the second LSS Data Systems customer to reach this important milestone.
As evidence of the strong network connecting many MEDITECH/LSS customers, the CIOs at the two organizations began a dialog after Citizens became the first hospital under 100 beds to achieve HIMSS Stage 6 status.
"We did not know much about the HIMSS model until reading about Citizens and the path they took to reach Stage 6," said Jennifer Laughlin, Vice President and CIO at WRMC. "I called their CIO Denni McColm to get her advice on how a similar-sized hospital like WRMC could facilitate physician buy-in, and optimize the utilization of their software to achieve Stage 6."
McColm suggested Laughlin contact HIMSS Analytics to discuss where they ranked among the EMR Adoption Stages. WRMC had already been recognized as a pioneer in the industry, including being named a five-time winner as a "Most Wired" hospital for utilizing health care information technology to improve the quality and safety of care.
"We were initially categorized as Stage 4, and I was a little disappointed. But we learned how close we were," said Laughlin. "Once we implemented bedside medication verification and closed the medication loop, we jumped right over Stage 5 to Stage 6, which was very exciting."
In doing so WRMC joined just 20 other hospitals in the nation who have reached the Stage 6 level of EMR adoption. Two of these hospitals are current clients of LSS Data Systems.
The Value of Integration
Although the HIMSS Analytics model is geared toward EMR use in the acute care environment, Laughlin stressed the importance of their organization's integrated, enterprise-wide medical record.
"Our electronic health record (EHR) strategy is based on the integration of data from across our organization, from the hospital as well as our clinics and other centers of care. Using LSS Data Systems in our ambulatory clinics and practices allows us to maintain one electronic medical record for each patient."
In addition to the flow of data from across the enterprise into one record, Laughlin cited the common interface and conventions shared between LSS Data Systems and MEDITECH applications as a significant accelerator for physician adoption and use.
"The common documentation tools, and the similarity of templates particularly, helped raise the physicians' comfort level. Those who used templates in their clinics had an easy time adopting them in the hospital, and it helped them encourage their colleagues to use them."
Preparing for the Future
Both McColm and Laughlin agree that the HIMSS EMR adoption model provides validation that they're on the right track.
"The most important thing is improving patient care, and this recognition affirms that we are doing the right things to achieve this goal," said McColm.
This is helpful because, as Laughlin observed, "It's really difficult to know how your organization is doing relative to others."
Perhaps most importantly, the recognition is evidence that these organizations are prepared for the future of health care and the increasingly high expectations regarding patient safety, efficiency and quality of care.
With health care organizations facing, in Laughlin's words, "so many government reimbursement rules today, and new rules on the horizon," she wonders how organizations can keep pace without well integrated systems.
"Without a fully integrated HCIS in place, health care facilities will not have the capability to run quality reports or submit data electronically - both of which will be required, most likely sooner rather than later."
Laughlin encourages organizations to strive to be ahead of the curve in using technology to help them prepare for the future and reach their goals.
"We're in a good place now because our physicians are actually pushing us to go more fully electronic - they want everything to be accessible." said Laughlin. "With the integrated, state-of-the-art technology MEDITECH and LSS Data Systems provide their customers today, I would imagine many organizations similar to ours have their own achievement within reach."
About LSS Data Systems
LSS Data Systems, a
MEDITECH
partner founded in 1982, develops clinical, financial and administrative solutions for medical practice groups, healthcare delivery systems and clinics across the United States and internationally. Together with MEDITECH, LSS has developed the Medical and Practice Management (MPM) Suite, a full-featured ambulatory care solution that integrates physician practices and clinics with MEDITECH's Health Care Information System, providing a complete patient chart. The MPM Suite's ambulatory Electronic Health Record includes scheduling, billing and revenue cycle management tools as well as flexible documentation options, robust CPOE and e-prescribing capabilities, and clinical decision support for health maintenance and disease management. For more information please visit
www.lssdata.com
.
For additional information:
HIMSS Analytics