Aegis Bleu Launches VASST, First Mobile Vulnerability Assessment Security Survey Tool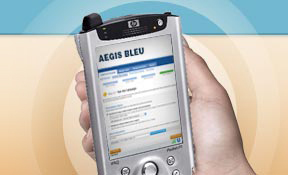 Aegis Bleu, LLC is please to launch VASST the first
mobile physical infrastructure self assessment
software tool. In light of the fifth anniversary of 9/11 it's now more important than every to assess our nations critical infrastructure vulnerabilities. With its mobile capability, VASST provides the most comprehensive, accurate, objective, and actionable physical infrastructure self assessment available.
85 percent of the nation's critical infrastructure is managed by the private sector presenting significant risk in the government's ability to comply with Congressionally mandated PCII program that increases government access to Critical Infrastructure Information that has historically not been available from the private sector.
Traditional security assessment tools take months to compile reporting and are prone to user error. Aegis Bleu's VASST (Vulnerability Assessment Security Survey Tool) allows one or multiple individuals to quickly survey a facility and then document vulnerabilities using a mobile PDA with photographic evidence. Mobile teams can sweep one or multiple facilities in a tenth of the time of traditional methods. Reporting is generated instantly showcasing all weaknesses along with corrective action planning options for consideration and photographic evidence. "The sooner you can move from assessment to remediation the more significantly you can reduce your risk. VASST insures accurate collection in the minimal amount of time." said Daniel R. Young president of Aegis Bleu.
VASST is based on industry and DHS best supported by leading security practitioners from across the US. The
vulnerability assessment
tool can assess multiple facilities and consolidate information into a centralized reporting engine. The reporting engine allows for system wide risk based assessments along with comparative analysis. "Instead of spending time using traditional basement methods with VASST you can focus on analyzing your data and remediation steps." said Daniel R. Young. VASST utilizes Security Assessment File Exchange (SAFE), the most interchangeable and flexible security data file format available. SAFE looks to provide interchange with Department of Homeland Security ACAMS (Automated Critical Asset Management System).
VASST is designed to assist all types of businesses, critical infrastructure, local, state, law enforcement and federal government agencies in assessing facility vulnerabilities and generating comprehensive reports based on key security areas. Unlike other cumbersome assessment methods on the market that require on-site professional analysis, VASST utilizes semi-automated software that is easy to use and provides the highest amount of support to those utilizing the tool. For more information visit
http://www.aegisbleu.com/
About Aegis Bleu, LLC:
Aegis Bleu, a Michigan based company is the provider of the most comprehensive, accurate, and actionable physical infrastructure self assessment software tool available. VASST continues to be shaped based on the events in our world and the requirements and priorities of our customers.