Superior Lamp Launches New Company Blog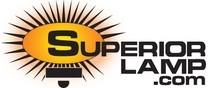 Superior Lamp Inc. has been an industry leader in marketing and distributing highly energy efficient heavy duty industrial lighting since 1977. Superior Lamp specializes in environmentally friendly industrial and home lighting. Superior Lamp has realized the importance and power of the internet and how vital it is to stay in touch with your audience at all times. Communication and being visible in front of your target customer will become even more important in the future, this is why Superior Lamp has chosen to launch a company dedicated blog to allow for the easiest of communication means.
Launching a blog for any business has become a vital ingredient in any online marketing strategy. Many companies today realize the importance of staying in touch with your potential customers and existing clients and there is no better way to do that than with a blog. The launch of a blog for any growing organization or company has become an online marketing must. Superior Lamp can now be informative and responsive to any new announcements that might be coming on the horizon. If Superior Lamps engages in a distribution with a new product they can quickly make an announcement with the use of their new blog.
Online marketing strategies come in all shapes and sizes and it is important to branch out online in as many different ways as possible. Building a company website and publishing it live and sitting back just is not enough anymore. With many companies focusing on search engine optimization and becoming more and more visible things like blogs has become second nature in many online marketing campaigns. Superior Lamp is no exception and has quickly become a player in the online marketing lighting game. Superior Lamp has found that trying to consistently stay informative in front of their audience and clients by trying to update their website gets very tedious and exhausting. The launch of their new blog will solve all those problems by allowing to upload information easily and quickly.
Superior Lamp has realized how important it is to stay active and visible online and have recently stepped up their efforts to be more competitive in the lighting industry. It is an industry that is very competitive and the competition is fierce. Superior Lamp has realized that if the internet is ignored they could quickly lose market share and that is not an option in today's economy. Competition comes many different forms and starting off and covering your bases online will allow you to stay on your audience's radar. More and more people start online when conducting research on a purchase than ever before so it is important to plant as many seeds online as possible so that your audience has portals to make it over to a company's website.
For more information on Superior Lamp please visit
http://www.superiorlampinc.com
or their new blog at:
http://superiorlamp.blogspot.com.
Media Contact
Tom Mosher
personnel@superiorlamp.com
800-257-8353