PIANO RENAISSANCE USES MODERN MARKETING TO PROMOTE OLD TIME SERVICES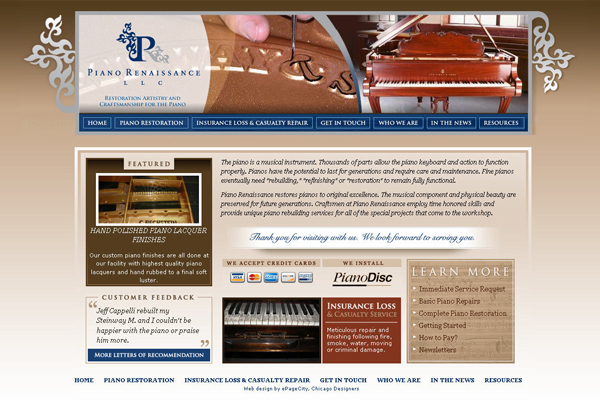 CHICAGO, IL, September 23, 2008 – Expert piano craftsmen at Piano Renaissance recently turned to the Internet as a means to promote their time honored skills. The company portrays its unique service offering through an elegant and informative web presence recently launched by Chicago website designers ePageCity.
Visitors quickly gain an appreciation for the art of piano restoration through owner Jeff Cappelli's passionate insight and long history with the craft. News articles and press coverage found on the new website explain the challenges facing the piano restoration industry and craftsmen in general. With the new website, Cappelli highlights the unique attributes of his company offerings and reminds people that specialized craftsman who work with their hands are still around.
About Piano Renaissance LLC
Piano Renaissance is dedicated to quality workmanship, a cooperative work environment and a lasting professional relationship. Since 1980, the company has been rebuilding and restoring pianos throughout Chicago. For more information, please visit
www.pianoren.com
.
About ePageCity, Inc.
ePageCity is Chicago's leading website design and development firm. Since 1999, ePageCity has served the small to medium-sized business and not-for-profit markets with custom and affordable website design services and easy-to-use content management solutions. Over 400 businesses and organizations throughout Chicago and the nation choose ePageCity for their website needs. More info at
www.ePageCity.com
.
Email Piano Renaissance, LLC