At New Academy of Sciences, Cinnabar's "Altered State" Exhibits Speak Up about Climate Change and California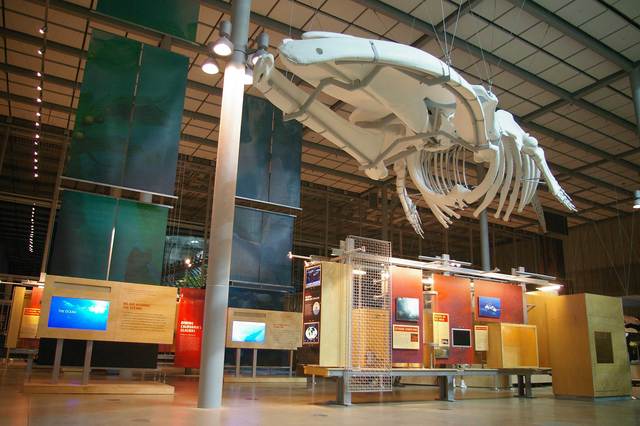 New $488 million, 410,000 square-foot California Academy of Sciences is a celebrated structure and model of LEED building and "green" principles, by Pritzker Prize winning architect Renzo Piano.
"Climate change doesn't have a fixed outcome - what we do as individuals and as a community will affect the next part of the story," says Jonathan Katz, CEO of Cinnabar Inc. "That's why it was important to design and produce "Altered State" as a participatory guest experience. The issue becomes real in terms of people's daily lives."
Katz is the executive producer responsible for assembling the team that conceptualized, designed, wrote, fabricated and installed "Altered State" (10,000 square feet) plus several other new exhibits (total, 35,000 square feet) for the new California Academy of Sciences, opening 27 September in San Francisco.
Katz is particularly well-qualified to produce "Altered State," with strong credentials in both conservation and design. As part of the Jerry Brown gubernatorial administration in the 1970s, Katz helped implement conservation initiatives such as the Office of Appropriate Technology and the California Conservation Corps. As a producer/fabricator of scenery and special effects for motion pictures, museums and themed attractions, Katz is known for a bold approach to content delivery, straightforward project management and for getting things done.
"Altered State" exhibits draw upon the findings of research scientists and the Academy's formidable specimen collection, plus live animal displays, media and graphics to demonstrate how climate change alters California weather, water, wildlife, wildfires, vegetation, recreation, tourism and economic production.
The Academy Takes a Stand
"As a respected scientific institution, the Academy saw the need to present the story of climate change, and boldly took that on. It's important for museums to step up. They have the authenticity to take a stand," says Katz
How California Becomes an "Altered State"
"Oceans Are Rising" shows how human activity is altering the oceans with unprecedented consequences.
"A Hotter World" explains how humans' use of fossil fuels changes seasonal weather patterns.
"The Melting Point" shows damage to the world's glaciers, alpine regions and polar caps that results from use of fossil fuels, affecting water supplies and wildlife.
"Mass Extinction" examines loss of species attributable to climate change and other human impacts, and what that loss means to the Golden State.
"Impact Videos" are each tied to one of four exhibits.
"Polar Ice: Critical Zone" is an interactive, big-screen simulation. People must use their bodies to block the rays of the Sun, stem the melting of ice floes and enable a baby polar bear to reach its mother.
Museum 2.0: Because Nobody Reads the Labels
The "Altered State" exhibits are designed to engage and inform the visitor, reinforcing their awareness of the environment, their connections to others, and their power to act.
This is achieved partly through "Museum 2.0" design principles - a way of sharing information that takes its cue from the egalitarian interactivity of Web-based social interfaces. "If you want people to be touched, to integrate the message into their lives, you have to integrate them into the exhibit," says Katz. "They will explore and take part in the dialogue to the level that suits them. It's been documented that 94% of museum visitors don't read exhibit labels. That calls for alternative forms of information delivery."
Call to Action
The Arena for Engagement invites visitors to learn more about the effects of their own actions in the global warming crisis and what they can do as individuals and as a community.
Highlights:
I Had No Idea! A display of products people take for granted in their daily lives, accompanied by alarming information about the extent to which they contribute to global warming.
Carbon Cafe: In a restaurant setting, learn the carbon costs of various food choices.
Share Your Ideas: A bulletin board where visitors can post their ideas for mitigating climate change.
Send a Message: Computer stations set up to email legislators in support of CO2 emission reduction measures.
Global Push: A large map highlighting climate-change initiatives in countries around the world.
Emerging Solutions: An array of available alternative energy solutions for the heaviest CO2-emitting sectors, such as transportation, energy and building materials.
Info Network: Computer stations linking to some of the information sources used in the "Altered States" exhibits.
About Cinnabar and the creative team
Founded in Los Angeles in 1981, Cinnabar Inc. is a leading production and fabrication company that works in film and television, museums and themed attractions. "For entrepreneurs like Cinnabar's Jonathan Katz, association with Hollywood not only gives him a special cachet in world markets but also provides day-to-day contact with the most demanding clients in the world, virtually forcing him to remain at the forefront of his craft," wrote David Friedman (Why Every Business Will Be Like Show Business, Inc.com, March 1995).
San Francisco based Volume Inc. helped develop and execute the visual identity and information design system. Other members of the production team include Cinnabar's Jeannie Lomma (project manager), Juan Corral (production manager) and Tom Mullaly (AV manager), along with Mindi Lipschultz (media director), Dante Thomas (interactive developer), and Snibbe Interactive (interactive multimedia). Cinnabar's Andrea Whittier was art director for the Early Explorers Cove. Pixie Hearn oversaw specimen and content integration. For Exhibit Development, Darcie Fohrman led the Exhibit Development group and Tim Newman was the writer/director/producer for the Climate Change Impact media.
Katz assembled a world-class team of science writers to write the exhibit panels: Carolyn Collins Petersen, Jeremy Bloom, Sophie Katz, the Academy's own Aaron Pope, and Michael Rigsby.
About the California Academy of Sciences
Since 1853, the California Academy of Sciences has been dedicated to exploring, explaining and protecting the natural world. Visit
www.calacademy.org.