The Votes Are In: 100 VCs & Angel Investors Have Chosen the Top 50 Emerging Companies in FundingPost's National Competition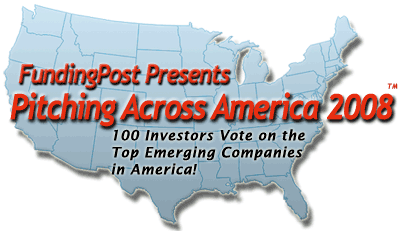 New York, NY - October 09, 2008 — FundingPost (
www.FundingPost.com
) proudly announced today the winning companies from its fifth annual Pitching Across America™ competition.
FundingPost, which has been introducing entrepreneurs to investors for over 7 years, established the competition in which 100 Venture Capital Funds and Angel Investors participated as judges, voting on 300 business summaries from emerging companies nationwide. The largest Venture Capital competition ever organized, this year's Pitching Across America™ was sponsored by Wolf Block.
"We are pleased to announce the results of this year's competition! It's a tough month for financial news, but the venture capital industry is still strong, and the Investors are still looking for quality companies to Invest in," said Joe Rubin, Director, FundingPost. "I'm sure that we will hear about several capital-raising success stories from this year's winners, as we have in all of the past years' Pitching Across America competitions!"
The emerging companies were evaluated on a scale of 1 to 10. Judging criteria consisted of several key points including: the professionalism of the written summary, current stage of development (customers, revenue), competitive advantage and need in the marketplace, feasibility for success, and whether the company is "VentureWorthy."
"I found Pitching Across America to be a great source of finding new companies to review," said Jung Yun, President of Global Media Fund. "I was able to connect with 7 new innovative companies for our fund."
"I was happy to be a judge in the 2008 Pitching Across America competition!," said Richard Irving, Managing Partner at Pond Venture Partners. "FundingPost has provided Investors a great way to read company summaries from across the country, and entrepreneurs the opportunity to get in front of a lot of Venture Funds they wouldn't normally have access to."
National Winner:
iCopyright, Inc., WA
iCopyright (
www.iCopyright.com
) solves a problem that is common for online publishers: Allowing users to copy or share articles quickly and easily while protecting and tracking the publisher's content on the World Wide Web. iCopyright is used by Advanstar, Associated Press, Boston Globe, Cygnus Business Media, Globe & Mail, Investors Business Daily, Penton Media, Reuters, SourceMedia and many other publishers.
Runner Up:
LeadGenesys, CA
LeadGenesys (
www.leadgenesys.com
) offers a software as a service (SAAS) Marketing Automation Platform that helps B2B marketing and sales teams identify and systematically nurture their "anonymous" website visitors. Customizable alerts are set to deliver "sales-ready" leads and truly accountable revenue growth. The Web-based solution complements SFA/CRM systems for large and small B2B companies with a tight integration with Salesforce.com.
Regional Winners:
Gallium Lighting, EverGreen Data Continuity, Inc., Catalyzed Combustion Technologies, SemiProbe, presspass, inc, frugalhorn, llc, Resolvity, Inc., VULOCITY – Mileage, Logger, 40billion.com, Scayl, ServusXchange, LLC, Import Car Parts of Colorado, Inc., Movi llc, Just Me Music, Quasar Technologies, Inc., Card Lab, Inc., NetFacilities, Inc., LegalEase Solutions LLC, National Protein, Innovamed, Inc., Collegiate Services, Inc., SoftNoze USA Inc., ObTech Corporation, Emission Control Technologies, Inc., OXON Medical LifeSystems, Inc., Touche Technologies, LLC / Motion4U, LLC, T.H.E. Thermal Heat Energy Corporation, Fave Media Inc., Blogging Systems LLC, NANEVA, ReproCure, BulletProof Electronics, Inc., Insight Financial Group Inc., Fantasy Action Network, LLC, 1Velocity, Immunotech Laboratories, Excalibur Pathology Inc., GenoMed, Inc., Vibraderm Inc., Eco Touch, LLC, iPowerUp Inc., eCycle, Inc., Global Universal Film Group Inc., Mavericks Surf Ventures, Inc., FrogPad Inc., ChiliTechnology/T2 International NC, Alliance Card, Inc., StrengthEdge Systems LLC.
Premiere Sponsor: Wolf Block. For more than 100 years, Wolf Block has helped entrepreneurial companies to flourish. Some of our largest clients today were once among our smallest clients. We have developed a proficiency in assisting companies from conception through the venture capital stage and into a public offering or exit sale. Our 300 lawyers have in-depth experience in a broad range of industries and practice areas. With seven offices in the Mid-Atlantic region covering the geographic corridor from New York City to Washington, D.C., our smaller clients benefit from an unusual combination: the sophisticated resources of a leading law firm coupled with a culture of servicing the unique needs of rising entrepreneurial companies. For more information, contact Beth Cohen, 215-977-2000,
www.wolfblock.com.
About FundingPost.com
FundingPost is an entrepreneur and investor network reaching more than 250,000 executives and 7,500 Venture Capital and Angel Investors across the nation each month.
For over seven years, FundingPost has worked with thousands of Angel and Venture Capital Investors and Entrepreneurs. FundingPost has hosted over 8,000 CEOs and 500 Venture Funds at events in 17 cities nationwide, as well as provided a quarterly Dealflow magazine and a deal-exchange Website that has, on average, seen an introduction of an Investor to an Entrepreneur every business day since its inception. FundingPost's mission is to reach investors and entrepreneurs in every medium possible - both online and offline, and it is experiencing strong growth as the venture capital markets continue to improve worldwide. For more information:
http://www.FundingPost.com