Baxa Corp UK Subsidiary Launches ZR® Pre-Filled Saline Flush Syringes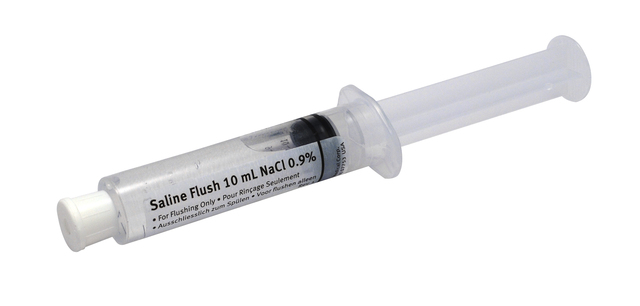 Bracknell, UK – Baxa Ltd announces its launch of a new line of pre-filled saline IV syringes in the UK. Baxa Ltd, an organisation committed to increasing patient safety through specialty devices for the preparation and administration of liquid medication, is adding a range of pre-filled saline intravenous flush syringes for catheter care in UK health systems. Baxa ZR sterile, pre-filled saline IV syringes provide a safe and effective alternative to flushes drawn from multi-dose vials or manual filled. ZR syringes provide ease of administration, convenience, reduction in the risk of errors, increased assurance of sterility, lower costs and less shelf-space than their alternatives, while promoting best practice in IV care.
Terry Aston, managing director of Baxa Ltd comments, "The time is right for pre-fills in the UK. Research and industry best practice widely acknowledges that the greater the number of procedures in preparation of medication, the greater the risk of cross-contamination. ZR pre-filled syringes reduce risk and are far more convenient to use."
The new flush syringes are available as 10 mL and 5 mL units. Each syringe is clearly labelled in accordance with NPSA Alert 201, which aims to reduce liquid medication errors. Their clear syringe barrels assist visual inspection prior to use; a pull-off tip cap indicates whether the seal is broken and also prevents syringe re-use. Each ZR syringe has a two-year shelf life. Expiry dates are clearly visible to nursing staff.
Nearly all in-patients require an intravenous solution at some point during their stay in hospital. According to a study by the Infection Control Journal, 8% of saline solutions manually prepared by nursing staff were contaminated by micro-organisms2. Using typical methods, which involve drawing up a saline solution from an ampoule, cross contamination is a genuine risk. By contrast, the ZR syringes are prepared and packaged within a completely sterile environment, reducing the number of procedures and therefore the risk associated with manual saline solution preparation via a needle, syringe or pod.
By adopting pre-filled flush syringes, which are available without prescription, the number of stages for dose preparation are reduced, which leads to greater compliance with ANTT (Aseptic Non-Touch Technique), recommended by NICE (National Institute for Clinical Excellence)3. Cross contamination is a genuine risk in manual saline flush syringe preparation.
To date, the UK healthcare community has been relatively slow to adopt pre-filled syringes, yet they are widely used across Europe. With fear of contracting an infection high on the list of patients' concerns as they enter hospitals as day patients4 and with new guidance and compliance governing the administration of liquid and IV medication, it is expected that safer, more convenient, pre-filled syringes will become an everyday method for flushing IV lines.
The product launch is a result of a distribution agreement between Baxa Corporation and Excelsior Medical Corporation, combining the two companies' experience, manufacturing expertise and distribution channels in the UK. For more information visit
http://www.baxa.com/zr
About Baxa Corporation
Baxa, a customer-focused medical device company, provides innovative, solution-based technologies for medication handling and delivery. Its systems and devices promote the safe and efficient preparation, handling, packaging, and administration of medications. Key products include the PadLock® Set Saver, Rapid-Fill™ Automated Syringe Fillers, Exacta-Med® Oral Dispensers, MicroFuse® Syringe Infusers, Repeater™ Pharmacy Pumps, and Exacta-Mix™ Multi-Source Automated Compounders; used worldwide in hospitals and healthcare facilities. Privately held, Baxa Corporation has subsidiaries and sales offices in Canada and the United Kingdom; direct representation in Austria, Belgium, Finland, France, Germany, Luxembourg, the Netherlands and Switzerland; and distribution partners worldwide. Further information is available at
http://www.baxa.com
1 NIH. National Patient Safety Agency. Patient Safety Alert: Promoting Safer use of injectable medicines. No 20. March 2007.
2 Calop J,Bosson JL,Croizé J,Laurent PE. Maintenance of peripheral and central intravenous infusion devices by 0.9 %sodium chloride with or without heparin as a potential source of catheter microbial contamination. J. Hosp. Infection 2000; 46:161-162
3 Infection Control: Prevention of healthcare associated infections in Primary and Community Care (June 2003)
4
http://www.bbc.co.uk:80/pressoffice/pressreleases/stories/2008/06_june/30/nhs.shtml
- BBC survey on NHS for its 60th anniversary
Contacts
In the UK:
Stephanie Scott, Marketing, Baxa Ltd
Tel: +44 (0)1344 392926 Fax: +44 (0)1344 392903
Email:
s.scott@baxa.co.uk
Kimberley Gray – Kimberly Gray PR
Tel: 0118 969 4904
Email:
kim@kimberleygray.com
www.kimberleygray.com
In the USA:
Marian Robinson, Vice President, Marketing
Baxa Corporation
Tel: 800.567.2292 ext. 2157 or 303.617.2157
Email:
marian.robinson@baxa.com
Email Absolutely Public Relations