Cartridge SAVE Strikes Gold at National Shopzilla Awards for Online Retailing Excellence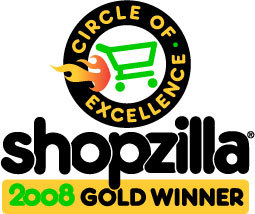 Shoppers using leading price comparison website Shopzilla.co.uk rated Cartridge SAVE (
www.cartridgesave.co.uk
), which sells Printer Cartridges, as excellent across a series of key performance measures including overall satisfaction, choice, ease of use, on-time delivery and customer service.
Cartridge SAVE was one of only 11 companies nationwide to receive a prestigious Shopzilla Circle of Excellence Gold Award, the scheme's second highest honour. Only eight companies were presented with Platinum Awards, the scheme's most prestigious accolade.
Cartridge SAVE's success was announced at a Champagne ceremony in London, the first time Shopzilla – the world's leading price comparison website – has held the prestigious Circle of Excellence Awards in the UK.
Ian Cowley, Operations Director, of Cartridge SAVE, said: "We are absolutely delighted about winning this Gold Award! It has been awarded solely on the basis of customer feedback, so we really couldn't wish for any higher accolade."
"Our number one mission is to make everyone's experience with our company a happy experience. I am so grateful to our Customer Services and Warehouse team for doing such a fantastic job in achieving this."
Congratulating the award winners, Scott Macon, Managing Director for Shopzilla Europe, said: "The Circle of Excellence Awards recognise the very best online retailers as voted for by the people who really matter, their customers. Cartridge SAVE has shown it is up to the task of meeting its customers' very high expectations.
"Our own recent research has shown that people in the UK are among the most avid online shoppers in the world and they rightly demand excellence. These awards not only show where that excellence is being achieved but set the benchmark for the future."
Notes to Editors:
About Shopzilla's Circle of Excellence Methodology
To qualify for the Awards, retailers must participate in the Shopzilla Research Customer Certified Merchant Programme. This programme allows online buyers to complete surveys at Point-of-Sale (POS) and after the delivery of goods in order to accurately measure the online shopping experience and to monitor the store's post-transaction fulfilment performance. To win, the merchant had to participate in the survey programme from October 2007 to June 2008 and their survey volume had to be in the top twenty percent of survey volume for July and August 2008. The Platinum winners had the highest overall POS score in their categories. The Gold winners had above the category average in at least six of the following key service metrics: overall satisfaction, product selection, ease of finding products, repurchase intent, product met expectations, on-time delivery and customer support.