Luxe Design creates personalized jewelry for Hollywood's most famous moms.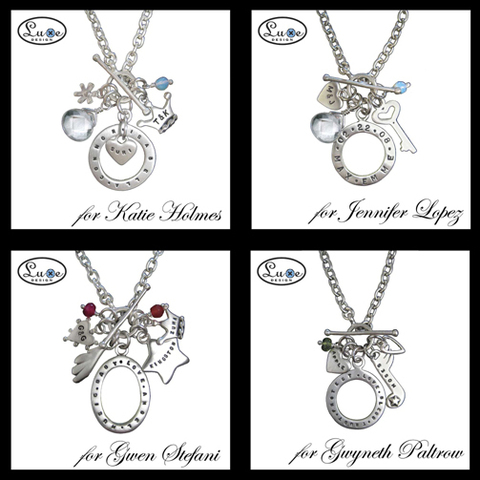 Luxe Design has been selected to create exclusive, customized jewelry for 21 celebrity moms and dads including Katie Holmes, Gwen Stefani, Halle Berry, Salma Hayek, Jennifer Lopez, Matthew McConnaghy and Gwyneth Paltrow. Every detail of the sterling silver necklaces was personalized by adding the birth date of their children, a birthstone charm, the kids' names, and even the parents' initials in some cases. Meaningful charms were added and bead colors were specifically chosen with the celebrities in mind.
"We added our music note charm with MOSES written on it because we had read that Gwyneth Paltrow and Chris Martin had named their son based on a song of the same name written by Chris. It was the perfect charm for them", says co-owner Joanne Hart of the personalized necklace she helped design.
Andrea Mueller and Joanne Hart are the owners and designers behind Luxe Design. Their "Make it Your Own" line of jewelry allows you to create your own personalized charm necklace by adding words, names and favorite sayings to their unique selection of customizable charms. Then you can choose a chain, some meaningful or symbolic charms and add some color with gemstone beads.
Andrea says she really enjoyed the creative process in designing each necklace; "Usually our customers are the ones who choose which charms and words are meaningful to them, it was fun to put together pieces that we thought would resonate with each person."
Joanne and Andrea are thrilled to have their company's jewelry included in the exclusive Hollywood Baby Breakfast Club Gift Basket that was sent out in October. The Hollywood Baby Breakfast Club is an upscale celebrity baby gifting experience for celebrity tots and their famous moms and dads. Created by Jayneoni Moore, a Los Angeles stylist and critic, the baskets are filled with the latest must-have products for babies, kids, and their parents.
Jayneoni is a regular on MTV, VH1's The Fabulous Life of Celebrity Kids, Entertainment Tonight, The Insider, MSNBC Hot List and CMM. She is the pre-eminent kiddie-swag specialist for Hollywood Celebrities and has become known as the Fairy Godmother to many of the famous tots in Tinsel Town.
For more information, a complete list of celebrities & high-res jpegs, please contact:
Andrea Mueller or Joanne Hart
P: 604.602.1921
E:
luxe@luxe-design.com
www.luxe-design.com