Max the Golden Retriever Announces the Launch of www.KeepOnWagging.com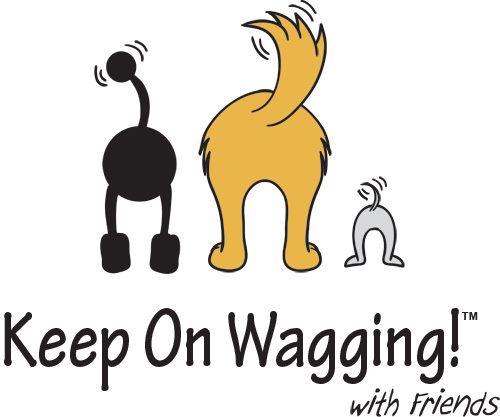 Dog and pet lovers now have a way to show the joy they receive from their pet companions. Inspired by Max the Golden Retriever,
www.KeepOnWagging.com
offers a custom designed line of t-shirts, hoodies, hats, decals and other stuff for dogs and the people who love them. Each item in the new line features a unique graphic design featuring Max the Golden Retriever or his friends.
The store's name and motto, "Keep On Wagging! wherever life takes you," was inspired by Max himself and his obvious enjoyment of life. Keep On Wagging!, just like the image of a wagging tail it brings to mind, reflects a simple message: Wherever life takes you, be happy! As Max puts it, "If life gives you tennis balls, play fetch!"
Max, who has a popular blog at
www.MaxTheGoldenRetriever.com
, often shares stories with his readers about his adventures in life. Max's adventures take him to places like the dog park, the vet, the country, Times Square and most recently a new life at the beach. The simple theme in all of his adventures is that no matter where the world takes Max he always finds enjoyment and is able to Keep On Wagging!
Max's people, often referred to as 'my people' in his blogs, Aubrey and Tanya Jones, were delighted to be able to help Max with this new adventure. "Max has offered countless friends the opportunity to laugh out loud, or LOL as the young people text, as they consider life from a golden retriever's point of view. We're indeed delighted that Max has entrusted us to help spread his infectious spirit," noted Mr. Jones.
Mrs. Jones, another of Max's people, recently discussed why Max asked for help. "Max wanted to take this on by himself, but it soon became obvious to him that he needed a little help. For instance, he experienced a number of painful paper cuts on his tongue attempting to ship the first orders. It turns out his tongue is just too big to lick the stamps and envelopes." "He also was finding the lack of opposable thumbs to be a bit constraining for some tasks like folding t-shirts" she added.
Max the Golden Retriever was unavailable for comment at the time of this press release as he was chasing the neighbor's cat across the yard. In a previous interview, however, when asked about his new t-shirts and other stuff for dog and lovers he noted, "Bark!, Bark!" The interviewer later noted, "Well said, Mr. Golden Retriever, well said indeed.
"The new Keep On Wagging! designs were debuted by Max at DogFest 2008 in Wilmington, NC to overwhelmingly positive reviews. Many attendees noted how fabulous Max looked and how soft his fur was. Some visitors even commented that the shirts and designs were nice too.
Each custom design carries the Keep On Wagging! name and is based in part on Max's adventures. The Keep On Wagging! "at the beach" design for instance features Max and a beach squirrel (crab) enjoying a reflective moment together. Another design, Keep On Wagging! "with Friends" shows Max and two of his friends, Molly the poodle and Chiquillo the Chihuahua contently wagging their tails.
About Max the Golden Retriever: Max is a fun-loving energetic three year old who, between chasing tennis balls and squirrels, blogs about his adventures at
www.MaxTheGoldenRetriever.com.
Max recently moved to the beach in South Carolina where he is experiencing a whole new series of adventures and sharing them across the world.
About Max's People: Aubrey and Tanya Jones are fun-loving people who are slightly less energetic and somewhat older than Max. Coincidently the Joneses also recently moved to a small beach community in South Carolina. When not being fun-loving Mr. Jones serves as 'The Internet Guy' for
www.KeepOnWagging.com
and as a Small Business Consultant with Riverbank Consulting, which, again coincidentally, is the parent organization for
www.KeepOnWagging.com.
Mrs. Jones serves as Chief Dog Walker and "The Non-Internet Stuff Person" for
www.KeepOnWagging.com.
Email www.KeepOnWagging.com