Marketplace Books Releases New Mark Larson Book – Big Money, Less Risk: Trade Options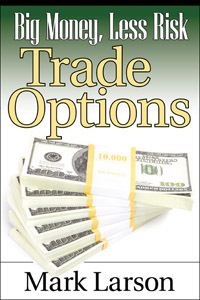 Mark Larson, seasoned trader and educator, has recently published his latest book, Big Money, Less Risk: Trade Options, through publisher Marketplace Books. Michael Thomsett, a successful author of trading and finance materials, provides the foreword while market gurus, Tom Sosnoff, of thinkorswim.com, Tim Knight, author of Chart Your Way to Profits, and Mike Coval, author of A Trader On Wall Street, all praise Larson's work on the back cover of the book. Providing a straightforward approach to options trading, Larson's new book is designed to improve investment performance and increase profits, even in turbulent times like these.
The book details the types of investment strategies that the experts use to make profits, such as writing covered calls, selling naked put options, and placing vertical spread trades or iron condors – all in a straightforward, easy to comprehend method. Larson explains how to apply these strategies in up, down, and sideways markets, and appropriately for today's economy, how to produce big returns with small amounts of capital.
Larson has been an active trader for more than ten years. He was the founder of Rolling Along Investments and is the best-selling author of two books: Technical Charting for Profits and Trade Stocks Online. He believes that technical indicators are the basis of options trading success, and in Big Money, Less Risk: Trade Options, Larson divulges the secrets to making your money work for you, instead of having to work for your money.
The author is a weekly writer for
www.incometrader.com
as well as an instructor with Investools. Throughout his career, he has become widely respected in the industry for his skill in educating others about technical indicators and options. This book is now available at
www.traderslibrary.com.
###
About Marketplace Books: Based in Columbia, Maryland, Marketplace Books has been serving the needs of investors, financial advisors, and professional traders since 1995, often partnering with key industry players in the investment world.
Marketplace Books
Traders' Library bookstore
9002 Red Branch Road
Columbia, Maryland 21045
www.marketplacebooks.com
www.traderslibrary.com