New Trading Book, Protective Options Strategies: Married Puts and Collar Spreads, Released by Marketplace Books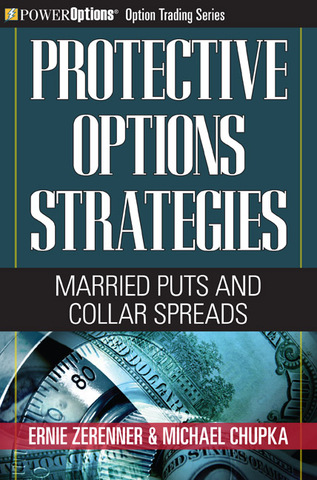 Marketplace Books announces the release of Protective Options Strategies: Married Puts and Collar Spreads, Ernie Zerenner's second book with co-author Michael Chupka, both of Power Financial Group, Inc. In their latest book in the PowerOptions Option Trading Series, Zerenner and Chupka reveal more reliable strategies to generate consistent income and provide insurance, especially during this time of financial crisis. In this new book, the topics of discussion include tips on entering protective strategies and the theories behind them, as well as selecting the right stocks and proper protective combinations for investing in today's volatile market.
More specifically, readers will learn in-depth methods to using married puts and collar spreads, both of which can be used to protect investments while preserving capital using options trades. Precise techniques, strategies, and concepts are delivered throughout the book, illustrated with charts and real world examples. This practical and easy-to-follow book is a must-read for those who are looking to increase profits by decreasing risk in their stock portfolios.
This is the second book for Ernie Zerenner and Michael Chupka; their first book, Naked Puts: Power Strategies for Consistent Profits, is a top selling book in the field of option trading strategies. Both authors have more than 30 years of experience combined, with exceptional knowledge of options investing.
It was Ernie Zerenner's breakthrough technology that earned a patent and became PowerOpt.com. Established in 1997, Zerenner's company Power Financial Group, Inc. is now a leading and innovative trading company that helps investors expand through options trading. Michael Chupka is head of the PowerOptions support team at Power Financial Group, Inc. and has continued to educate and successfully share knowledge with thousands of traders.
This new book and others are now available at
www.traderslibrary.com.
About Marketplace Books and Traders Library: Based in Columbia, Maryland, Marketplace Books is the premier publisher of investment and trading material. Marketplace Books has been serving the needs of investors, professional traders, and financial advisors since 1995, often partnering with key industry players in the investment world. Traders' Library is the preferred online bookstore for Marketplace Books products.