Mission Critical Psychological Services Launches New Website to Address Psychological Support of Civilian Contractors Working in Hostile Countries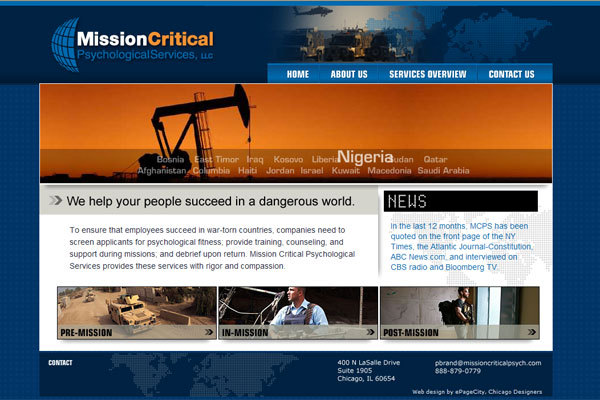 CHICAGO, IL, December 7, 2008 - Mission Critical Psychological Services (MCPS) provides support for contracted personnel in war-torn nations. The extreme conditions present in such hostile environments test a contractor's mental, physical and emotional capabilities. MCPS has launched
www.missioncriticalpsych.com
, a site that highlights their in-depth assessments and comprehensive support programs dedicated to civilian personnel abroad.
Dr. Paul Brand, CEO of MCPS, has over a decade of experience working in extreme environments such as Afghanistan, Iraq and Kosovo. During this time, he developed psychological fitness programs and implemented support programs for personnel serving in the Middle East. As CEO of MCPS, the New York Times, Bloomberg TV, CBS radio, ABCNews.com and other media sources have recognized Dr. Brand as an expert on Post Traumatic Stress Disorder.
The growing recognition of MCPS sets a high standard for its online presence. The recently launched,
www.missioncriticalpsych.com
reflects the company's global capabilities and caters to MCPS's target audience consisting of government officials, international corporations and special interest groups.
About MCPS: Mission Critical Psychological Services is the leading provider of psychological services to companies with contracted personnel in war-torn nations. From pre-mission measures designed at screening, to the support offered both during and after mission completion, MCPS provides comprehensive services free of global boundaries.
About ePageCity, Inc.,
www.missioncriticalpsych.com
website designers
ePageCity is Chicago's leading website design and development firm. Founded in 1999, ePageCity serves the small to medium-sized business and not-for-profit markets with custom and affordable website design services and easy-to-use content management solutions. Over 400 businesses and organizations throughout Chicago and the nation choose ePageCity for their website needs. Visit
www.epagecity.com
for more info.
Email Mission Critical Psychological Services