Applied Language Solutions on the Fast Track to Success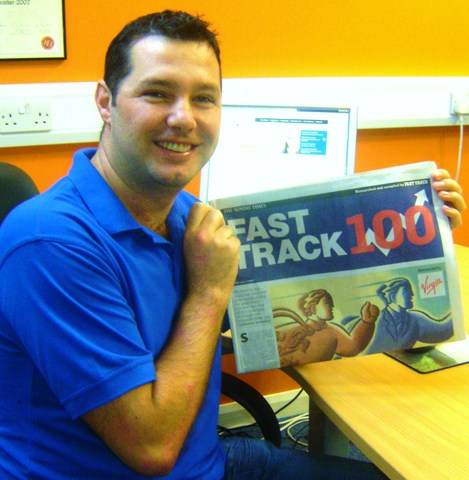 Applied Language Solutions have been named in the top 25 fastest growing companies in the UK according to the "The Sunday Times Virgin Fast Track 100".
As the first translation company to feature in the annual league table, the Oldham based company is the UK's 23rd fastest growing private company, according to the "The Sunday Times Virgin fast Track 100" annual league table.
Applied Language is the brainchild of Oldham born entrepreneur, Gavin Wheeldon, who first set up the company from the back bedroom of his home. Over the last 5 years, he has driven his highly successful translation company into an international operation with now nine offices worldwide in the UK, USA, India, France, Spain and Bulgaria. The translation company has seen a 111% increase in sales from just £580,000 in 2005, to £5.5 million in 2008.
Gavin Wheeldon comments, "We are thrilled to be named in 'The Sunday Times' Fast Track 100'. Our team is made up of the best in the industry, which each give 100% dedication to their roles, and have enabled us to grow at such an incredible rate, in such a short period of time. To be recognised on such a prestigious league table is testament to how far we've come, and an indication of what lies ahead for us."
Now in its twelfth year, the national league table ranks Britain's top one hundred private companies with the fastest-growing sales over a three-year period, to their latest available accounts. Companies that were featured alongside Applied Language in this years' league table included Hotel Chocolat, Tyrrells potato chips, Go Ape and Subway sandwich franchiser; Fast & Fresh Restaurants.
Gavin continues, "The very nature of translation and interpreting means that it is an international industry. Therefore the possibilities to operate on a global scale are there to be exploited further. Even in these times of financial uncertainty, we have made the most of this opportunity and will continue to do so with plans to expand, with an expected turnover of over 9 million, for next year."
As Gavin explains, his team of dedicated and skilled staff, together with sheer hard work is the reason behind Applied Language's success. Initially, Gavin recognised that no other company was capitalising on the opportunities offered by technology in the translation industry, in terms of business generation and working practice for lowering costs. Now 5 years on, he can reap the rewards, as his Translation Company is featured in The Fast Track 100.
The full findings can be found at
www.fasttrack.co.uk
Email Applied Language Solutions