Imagium Announces Unique San Diego Web Design Service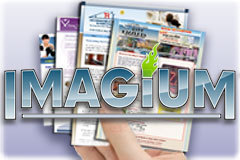 SAN DIEGO, Dec. 10, 2008-
Imagium Web
, helping businesses come to life…online, today announced the launch of its website,
www.imagiumweb.com
, which showcases its marketing-driven, SEO-designed business website services. Imagium maximizes clients' business ideas and converts them into greater revenues by targeting their ideal clients on the Internet.
"We've found that too many businesses have a website merely because everyone else has one, and they're not focused on planning and structuring them with achieving growth and higher profits in mind," said Phelan Riessen, Imagium's founder, who has 17 years of experience as a business owner. "We help clients build a strong web presence that becomes an integral part of their marketing and sales efforts."
Imagium understands websites must contain elements that attract prospects to visit initially, and come back for more; they also must appeal to prospects' needs and interests, be easy to navigate and find information, and have a compelling call to action. The Imagium
web design process
takes all those components into account, creating custom websites that include proven marketing systems, creative content, lead generation, SEO and more.
"Some people might question starting a new venture in what certainly is a down market, but we feel the timing is actually quite good," Riessen said. "Now more than ever, businesses need to really connect with their prospects and current customers, and differentiate themselves from their competition…and using a well-designed website as a vehicle to achieve those goals is both smart and cost-effective."
In addition to using a unique methodology to ensure that clients' websites become business generators, Imagium also offers a
Website Referral Rewards program
that puts cash in referral partners' pockets. Top referral types include web designers, SEO companies, graphic artists, hosting companies, IT businesses and marketing professionals.
About Imagium Web
Imagium is a full-service, San Diego-based web development company that provides successful, strategic solutions for all aspects of the web for small to mid-sized businesses. Its areas of expertise-design, marketing, creative content and programming development-are used to create quality websites balanced with the right visual design, intuitive usability, call to action and rich marketing content, as well as the proper search engine-optimized keywords and linking structures. Imagium creates successful websites, and also employs strategies to drive visitors to clients' sites. For more information, visit
www.imagiumweb.com
.