CHOOSE YOUR OWN ADVENTURE® LAUNCHES ON iPHONE®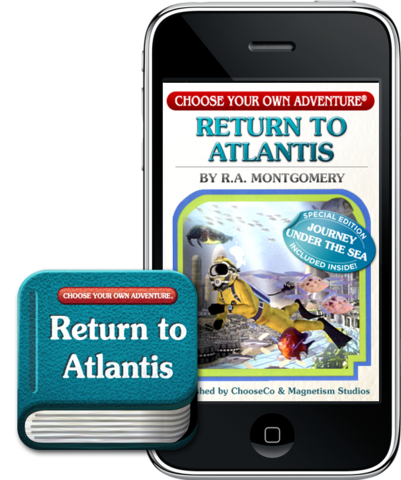 WAITSFIELD VT, December 11, 2008 – Chooseco LLC and Magnetism Studios are pleased to announce the publication of two titles in the classic Choose Your Own Adventure® series for the iPhone®. The joint venture is releasing Journey Under the Sea, and Return to Atlantis on Wednesday December 10th.
"Magnetism Studios approached us right after the launch of the iPhone 3G in July," Chooseco publisher Shannon Gilligan says. "It was a natural fit for Choose Your Own Adventure. Magnetism has done several very fun, well-designed apps, and the iPhone is ideal for an interactive reading experience. Plus, our illustrations and the animated interface look great on the high-res screen. It's the perfect medium to bring the books to a new audience and platform."
Or maybe an old audience.
"Everyone at Magnetism read Choose Your Own Adventure growing up. Even just seeing the covers of the old books makes us feel nostalgic, and we realized that a lot of other iPhone users probably felt the same way," states Joshua Keay, Magnetism President. "The Choose Your Own Adventure series helped make reading cool, and we think bringing the classic books to the iPhone will help both old and new readers enjoy them."
And the founder's take? "My favorite feature is that you can shake the phone and it will randomly take you to another page in the book," says series author and founder R.A. Montgomery. "It has the exact randomness of the paper version. I can't stop using it."
The titles will be available exclusively via the iTunes App Store for $3. Additional information and links can be the Magnetism Studios website at
www.magnetismstudios.com/CYOA
.
About Chooseco, LLC:
Chooseco, LLC publishes The Choose Your Own Adventure series. Widely commended for its appeal to reluctant readers, the interactive, multiple-choice multiple-ending series is among the most popular series for children ever published, with more than 250 million copies sold in 38 languages. Chooseco has sold over 1.5 million copies since the series re-launch in 2006. Each story is written from a second-person point of view, with the reader assuming the role of the protagonist and making choices that determine the main character's actions in response to the plot and its outcome. Find out more at
www.cyoa.com
.
About Magnetism Studios:
Magnetism Studios, based in New York City, is a product design studio committed to bringing together the worlds of technology, design and entertainment. With a full product line ranging from software and online greetings to t-shirts, all their products feature a clean and playful aesthetic. Since 2005, Magnetism has been developing for Apple's Macintosh Dashboard platform, and in 2008, Magnetism expanded its offering to create a new line of apps for Apple's new iPhone platform. The full line of Magnetism products can be viewed online at
http://www.MagnetismStudios.com