Practical Recommendations Mitigating the Impact of Global Financial Crisis on Business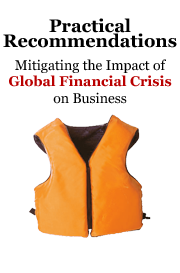 MarketPublishers.com has released a special anti-crisis research package featuring effective measures to combat the effects of global financial crisis at single company level.
Prepared by top partner-companies the researches of the package are organized according to three market sectors: Anti-Crisis Recommendations for Trade and Distribution Companies, Manufacturing and Mining Enterprises, and Financial Sector Representatives. Each report comprises a range of anti-crisis measures to be taken in order to optimize company's survival in the global downturn.
The research reports provide economic crisis scenario forecast and list the most urgent anti-crisis measures that should be taken as soon as possible in order to tackle the global downturn. Researches elucidate all current aspects of ensuing company policies from personnel reduction to bank loans.
Each report contains:
- planning company's short-term and long-term strategy taking into account effects of the global crisis;
- expense optimization;
- necessary alterations in company's investment policy;
- cooperation with banks and refinancing;
- peculiarities of dealing with borrowers in the conditions of the crisis;
- cooperation with suppliers and partners in crisis environment;
- logistics: supply planning and organization;
- establishing priorities when dealing with clients;
- company's internal policy and focus on teamwork in terms of the crisis;
- company's internal policy and correct worker motivation in time of the crisis;
- new possibilities the crisis opens.
For more information visit
http://marketpublishers.com/r/A6EAB7FCD8DEN.html
Email MarketPublishers.com
Attachments