ADLINK Technology Inc. Introduces New ETX® Module with Atom™ N270 Processor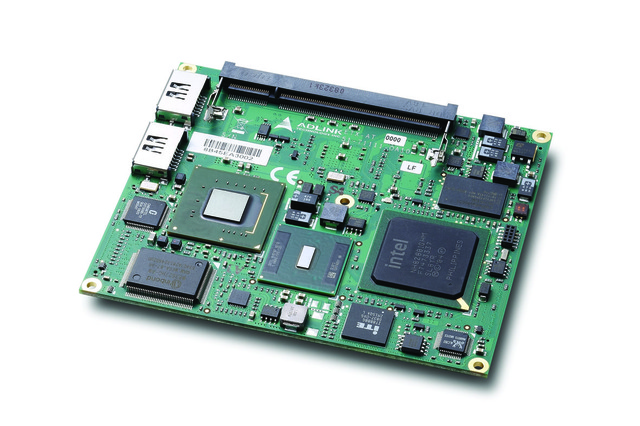 SAN JOSE, CA – December 19, 2008. – ADLINK Technology, Inc., a global provider of trusted embedded products, announces the ETX-AT, the newest member of its Computer-on-Module (COM) family. The ETX-AT is based on the latest ETX® 3.02 form factor standard. The ETX-AT provides two additional SATA ports on the module while maintaining full backward compatibility with earlier ETX® standards.
The ETX-AT is positioned an entry level ETX® module for generic systems but also for systems that require a full set of graphics features. The module comes with integrated support for high resolution CRT, single/dual channel LVDS and TV-out (SDTV and HDTV). A very low power consumption of below 10 watts makes this module suited for truly fanless or deeply embedded systems. Primary applications areas are: Medical Diagnostics and Imaging, Gaming, Industrial Automation, Test and Measurement, POS, and Industrial Control.
With reduced power consumption and lower system cost, the 45nm Intel® Atom™ Processor N270 with 512 kByte L2 cache on the ETX-AT features a thermal design power of just 2.5 watts at peak levels while supporting Intel® SpeedStep® Technology. The Intel® Atom™ Processor N270 supports Hyper Threading Technology that essentially makes it behave like a dual-core processor. The thermal design and powerful CPU core allows the ETX-AT to provide equal or better performance than earlier generation modules at lower power consumption.
"At a much lower total cost of ownership, the ETX-AT provides much higher value specifically for entry level ETX® applications", explained Henk van Bremen, product director for ADLINK Embedded Division. "With its popular and proven integrated graphics core based on the Intel® 945GSE Express chipset and additional 18/24-bit LVDS support, this product is optimally suited to graphics demanding applications such as medical. Many system integrators can use the ETX-AT to upgrade older generation modules used in currently running projects because of its better value, lower price and seven year warranted production lifetime."
The ETX-AT supports up to 2 GB of "mainstream" DDR2 memory on a single SODIMM. The Mobile Intel® 945GSE Express chipset integrates an Intel® Graphics Media Accelerator 950 that provides CRT, TV-out (SDTV and HDTV) and has additional support for single/dual channel 18/24-bit LVDS. The module incorporates an Intel® based 10/100BASE-T Ethernet port, provides two IDE PATA channels, a dual-port SATA controller, 4 USB 2.0 ports, two serial ports, one parallel port (SPP/ECP/EPP) shared with FDD, one PS/2 keyboard/mouse interface and HDA Audio.
The ETX-AT fully supports PCI™ and legacy ISA based on a high speed PCI/ISA bridge. The module comes equipped with AMIBIOS8® supporting embedded features such as Remote Console, CMOS backup for battery-less operation, CPU and System Monitoring, and Watchdog Timer. The ETX-AT can be optionally equipped with a Solid State Drive (SSD) soldered onto the module to provide up to 4 GB of IDE-based bootable Flash storage.
Pricing and Availability: The ETX-AT is sampling in small amounts to customers now with full production quantities expected to start shipping in February 2009. List pricing is less then $300 in single quantity with pricing for larger quantities available upon request. The ETX-AT is a revision controlled product aimed at applications that require guaranteed long production life support. The module comes with BSP support for Windows XP, Windows XP Embedded, Windows CE, Linux® and VxWorks.
ADLINK's Full Computer-on-Module Product Line : ADLINK's complete Computer-on-Module product family includes ETX® modules for PCI/ISA oriented designs and COM Express™ modules for PCI Express®/PCI™ designs with optional legacy support through LPC. To evaluate or test our modules, starter kits with fully assembled system, cabling and software or prototype boards with ATX form factor are available.
Carrier Board Design and Manufacturing Support: ADLINK provides schematics, mechanical files, design guides, BSP's, I2C libraries, R&D support, product review service and BIOS customization for companies performing their own carrier board design. ADLINK also offers full development and/or production services for those wishing to outsource their carrier board/system design and/or manufacturing.
About ADLINK
ADLINK Technology provides a wide range of embedded computing products and services to the test and measurement, automation and process control, gaming, communications, medical, network security, and transportation industries. ADLINK products include PCI Express®-based data acquisition and I/O; vision and motion control; and AdvancedTCA®, CompactPCI®, and COM Express™ modules for industrial computing. ADLINK strives to minimize the total cost of ownership (TCO) of its customers by providing customization and system integration services, maintaining low manufacturing costs, and extending the lifecycle of its products. ADLINK is a global company with headquarters and manufacturing in Taiwan; R&D and integration in Taiwan, China, and the US; and an extensive network of worldwide sales and support offices.
ADLINK is ISO-9001, ISO-14001, and TL9000 certified, is an Associate Member of the Intel® Embedded and Communications Alliance, an Executive Member of PICMG®, and a Sponsor Member of the PXI Systems Alliance. ADLINK is a publicly traded company listed on the TAIEX Taiwan Stock Exchange (stock code: 6166). For more information, please visit:
http://www.adlinktech.com.
Intel®, Intel® Atom™, Intel® Core, Pentium® and SpeedStep® are trademarks of Intel® Corporation in the United States and other countries. All other trademarks and registered trademarks are properties of their respective owners.
Email Adlink Technology, Inc.