Altmans Winnebago Announces Brand-name RV's at up to Half Off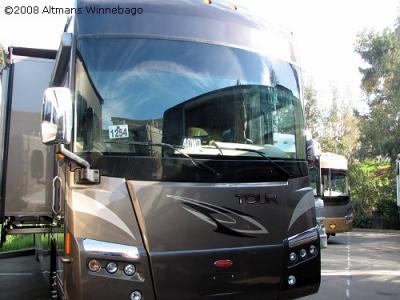 (Carson, California) Joe Altman, president of Altmans Winnebago, one of southern California's largest RV dealers, announced today a groundbreaking sale that is sure to set a new benchmark in the RV industry. Under the banner of "Extreme Buy of a Lifetime", Altmans Winnebago will offer new motorhomes, toy haulers, fifth wheels, and travel trailers with savings up to 50% off the original price.
Brand names include Winnebago, Damon, Pilgrim, Teton, Thor, and Gulf Stream. The sale will be limited to new 2006 & 2007 models at 50% off MSRP, and 40% off 2008 models.
Joe Altman states, "Our lending institutions and manufacturers have given us incentives with the result that we must immediately reduce inventory." He added, "It couldn't come at a better time! The holidays are behind us, a new President is on the way to the White House, gas prices are down and I have no doubt that whatever consumer confidence was lost, will bounce back."
This once-in-a-lifetime sale by Altmans Winnebago will encourage people who have long wanted to begin their RV adventure, to make the call today. Prices have never been so low and will likely never be again.
For example, a brand new, fully equipped 30' Winnebago Class A motor home, originally priced at $83,258 will be available for only $41,629. And there are four from which to choose!
A 2008 Class A
Winnebago Tour
40 foot Diesel pusher, with a 400 hp Cummins engine, originally priced at $268,697 will be sold for $161,218
At 40% off MSRP, a brand new 2008 Class A 35L
Winnebago Adventurer
, with a window sticker of $160,038 can be purchased at only $96,023.
At 50% off MSRP, a brand new 2007 Class C 24 foot
Winnebago Access
stock #808025 with an MSRP of $70,814 is on sale now for $42,488.
"Our late founder, Dave Altman had a vision," says Altman. "He promoted our industry and was a role model to the end. Altmans Winnebago continues to set the bar by bringing this "stimulus" to Main Street during this economic downturn, assisting our customers with the motorhome purchase of their dreams."
Altmans Winnebago has two locations: one in Carson and one in Colton. (link) or you can visit them online at
www.altmans.com
We expect our phones to be constantly ringing and customers to be at the door before we arrive. Be the first. Don't be disappointed, call or come in to a location near you and reserve your RV today.
"The party has to end sometime," says Altman. "Our 'Extreme Buy of a Lifetime' that is going on now, will end on January 31, 2009 or when the 50th unit is sold, whichever comes first. There are some restrictions; all sales are for consumers only, no sales to dealers will be accepted. And government fees such as sales tax, license, and tire disposal fees are extra as is the dealer documentary fee. All sales are net of manufacturer's rebates.
What sets Altmans Winnebago apart from other dealers is our focus on customer service. Altmans has won the Winnebago Circle of Excellence awards since its inception.
Altmans Winnebago has been featured in such magazines as RV News and RV Trade digest and in 2000 Dave Altman was inducted in the RV Hall Of Fame.
Most recently, the Affinity Group honored our late founder, Dave Altman by naming their Top Dealer Award in his honor. The Dave Altman Award is given to the nation's top RV dealer for excellence in customer service. The Affinity Group owns the Good Sam Club and publishes numerous RV magazines such as RV Business Magazine, Motorhome Magazine, Highways Magazine and Trailer Life Magazine providing the North American RV audience with the information, insights, and resources necessary to enhance their recreational experiences and follow their dreams.