New Jeff Greenblatt DVD Course Released by Marketplace Books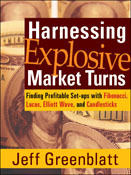 At the 2008 Traders' Library Trading Forum, in front of a standing room-only crowd, Jeff Greenblatt showed that the Dow had hit a key time window and was positioned for a powerful move. The next trading day resulted in one of the biggest rallies ever. Now, Marketplace Books and Traders' Library have made Greenblatt's presentation available to traders everywhere with the release of the new DVD,
Harnessing Explosive Market Turns: Finding Profitable Set-ups with Fibonacci, Lucas, Elliott Wave and Candlesticks
.
Greenblatt has developed and tested a timing methodology that can be adapted to many disciplines of technical analysis, allowing traders and money managers to make trading and investment decisions with much greater precision. With this DVD course, traders will learn how to use Greenblatt's unique blend of indicators, including Fibonacci, Lucas, Elliott Wave, candlesticks, and others in order to offset the inefficiencies of any one indicator. He will reveal patterns that help to maximize potential profit in trades and introduce crystal-clear rules for finding the most powerful pivots. He will explain how to increase your trading profits by staying in the winning trades and how to get out with the least risk. The beauty of Greenblatt's systematic approach is that it can be used to identify turning points in any market – stocks, futures, forex, options – ensuring that traders never miss another profit-boosting opportunity.
Jeff Greenblatt is the director of Lucas Wave International, and has been trading privately for the past nine years. He is the author of the recent bestseller, Breakthrough Strategies for Predicting Any Market: Charting Elliott Wave, Lucas, Fibonacci and Time for Profit, as well as the editor of The Fibonacci Forecaster, a market timing letter with a circulation of traders and money managers in 17 countries that covers stocks, bonds, precious metals, currencies, and the crude oil market. He is also a regular contributor to Futuresmag.com and Futures magazine, in addition to having published articles in Australia's Your Trading Edge magazine and Singapore's The Trader's Journal.
His new DVD course,
Harnessing Explosive Market Turns: Finding Profitable Set-ups with Fibonacci, Lucas, Elliott Wave and Candlesticks
, as well as his book, can be purchased at
www.traderslibrary.com
.
About Marketplace Books and Traders' Library: Based in Glenelg, Maryland, Marketplace Books has been serving the needs of investors, financial advisors, and professional traders since 1995, often partnering with key industry players in the investment world. Traders' Library is the preferred online bookstore for Marketplace Books products.