Oliver Velez Releases New DVD with Marketplace Books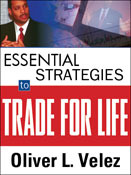 Marketplace Books is proud to announce the release of Oliver Velez's new DVD,
Essential Strategies to Trade for Life
. As one of the most respected educators in the industry, Velez will ultimately change your view of the markets with this brand-new DVD. With four hours of thorough trend analysis and discussion, Velez will give you access to the specific tactics that his traders use - with his own money.
In this DVD presentation, Velez elaborates on candlesticks, entry points, retracements, stops, as well as defines the four major obstacles that traders face and how to defeat them. He'll also reveal several trading secrets, such as short-term mechanical trading rules, his proprietary strategy that has exposed huge profit potential, market trading formulas to identify which direction the markets will go, and the most effective tactic that tells what the market movers are doing. Oliver's strategies have proven to be very profitable in various markets and time frames and can be applied to a wide range of trading opportunities. This DVD provides traders with the knowledge needed to take advantage of the market opportunities that will make you money.
Oliver L. Velez is a bestselling author, advisor, and entrepreneur, but most of all, he's one of the most sought-after speakers and teachers on the subject of trading. His speaking events and seminars have been attended by over 60,000 traders worldwide. His bestselling books include Strategies for Profiting on Every Trade and Tools and Tactics of the Master Day Trader and are considered must-read trading classics. CNBC, Bloomberg and Fox News often seek his expertise and Dow Jones has called him "the messiah of trading." Velez is the founder of Pristine Capital Holdings, Inc., one of the nation's premier educational institutions for investors and traders. Today, he runs Velez Capital Management, LLC, one of the nation's fastest-growing private equity trading firms.
Oliver Velez's new DVD course,
Essential Strategies to Trade for Life
, as well as his other books and DVDs, is available now at
www.traderslibrary.com
.
About Marketplace Books and Traders' Library: Based in Glenelg, Maryland, Marketplace Books has been serving the needs of investors, financial advisors, and professional traders since 1995, often partnering with key industry players in the investment world. Traders' Library is the preferred online bookstore for Marketplace Books products.