Jostens captures historic year with World Beat® Commemorative Edition for yearbooks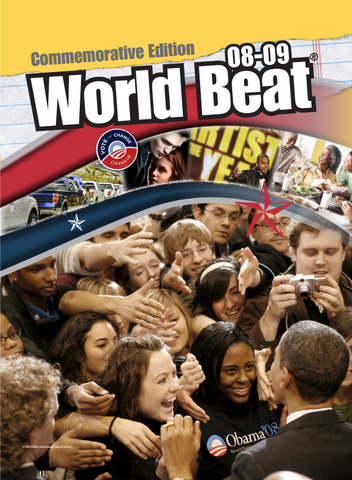 MINNEAPOLIS, January 13, 2009 – Jostens has announced the 2008-09 Commemorative Edition of World Beat®, Jostens branded current events insert for school yearbooks. Jostens, a leader in school yearbooks, has created the World Beat Commemorative Edition to help schools complete the story of their 2008-2009 school year with content to document unprecedented national and world events. The 16- page color insert includes photos and captions that depict the historic presidential campaign and inauguration, the summer Olympics, the green movement and the economy, with a special focus on the impact of youth in America.
"Students have yet to see a year quite like the 2008-2009 school year and it is a challenge for yearbook advisers and staffs to capture the external events that impact student life," said Julie Fitzgerald, director, Jostens' Memory Book. "Jostens World Beat Commemorative Edition provides an easy and economical way to help tell the full story."
World Beat is selected by yearbook staffs to be included within their yearbook. As events covered in World Beat will shape lives for years to come, Jostens seeks input from teens online to help determine which stories are affecting their lives the most. Stories ranked highest by teens included the 2008 Presidential Election and online social networking.
"We are very enthused about reactions to early drafts of the World Beat Commemorative Edition," said Fitzgerald. "Based on the historic significance of recent events, we anticipate a high demand for World Beat and yearbooks in general, and are working closely with yearbook staffs to ensure that every student has an opportunity to include World Beat in their yearbook."
A yearbook captures what is going on inside the school. The addition of World Beat gives students the context for the world around the school and adds to the keepsake value of yearbooks as they help retell stories for decades.
About Jostens
Minneapolis-based Jostens is a provider of products, programs and services that help people inspire achievement and celebrate memories. The company's products include school yearbooks and memory books, OurHubbub™ Photo Memory Books, scholastic products such as class rings and graduation products, and products for athletic champions and their fans. Jostens is a subsidiary of Visant Corporation, a leading marketing and publishing services enterprise servicing the school affinity, direct marketing, fragrance and cosmetics sampling and educational and trade publishing segments.
Contact information:
Rich Stoebe 952.830.3250
richard.stoebe@jostens.com
Jostens
3601 Minnesota Drive
Suite 400
Minneapolis, Minnesota 55435