School Furniture Financing Program from Hertz Furniture Makes Life Easier for Schools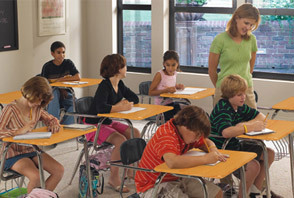 School furniture purchasing made easier with innovative furniture financing program from Hertz Furniture. 4 easy steps to finding and financing the right school furniture.
In these uncertain economic times, many private and charter schools are putting off replacing old, worn
school furniture
because of a lack of sufficient funds. The harsh reality in these schools, is that the practical needs of students and teachers are being neglected in favor of other priorities.
According to Saul Wagner, president of Hertz Furniture and an advisor on educational ergonomics, well-designed furniture and the optimal arrangement of the classroom are indispensable components of any educational environment. Mr. Wagner explains, "Studies have repeatedly shown that a well-furnished, well-organized environment boosts morale and increases productivity. We want schools to continue to fulfill the incredibly important work that they do without having to worry about how they will afford to replace classroom chairs and desks."
Hertz Furniture's
financing
program specializes in leases and loans to schools, educational organizations, religious institutions, and PTAs, PTOs and similar organizations that are working overtime to help fund programs and equipment for schools. Hertz Furniture works closely with each customer to customize a comfortable, realistic payment structure. The payment plan is not a lease; at the end of the term the institution keeps the furniture. Through Hertz Furniture's financing program organizations are able to preserve their lines of credit and conserve their working capital. "With both our financing program and the Hertz Guarantee to rely on," added Saul Wagner, "we've made it easier than ever for schools to be able to get the furniture they need, when they need it."
While financial pundits are claiming that easy credit is a thing of the past, Hertz Furniture is striving to maintain its unparalleled standards of customer support by ensuring that schools and other institutions don't forgo their right to a well organized, well-furnished environment.
About Hertz Furniture
For over 40 years
Hertz Furniture
has supplied schools, religious institutions, businesses and government offices with top quality commercial furniture and superior customer service. Speedy Quotes, many Quick Ship products, a Price Guarantee and a free Space Planning Service are just a few of the ways that Hertz Furniture provides added value to its customers. For additional information on Hertz Furniture and its extensive line of products, please visit
HertzFurniture.com
, speak to a furniture specialist at 800-526-4677, or send an email to
linda@hertzfurniture.com
.