A-Soy™ Adult Nutritional Beverage Now Federal WIC Eligible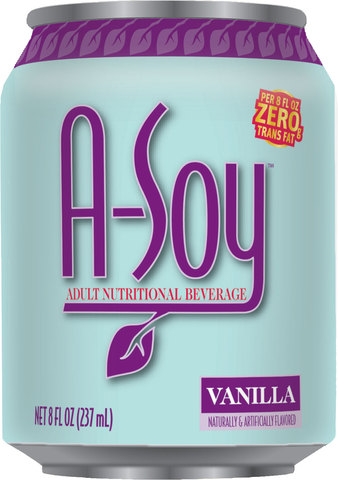 GORDONSVILLE, VA - A-Soy, a soy adult nutritional beverage specially formulated for people who are lactose intolerant, cow's milk allergic, or who prefer a vegetarian diet, is now federal WIC eligible. Developed by PBM Products, LLC, A-Soy is a great-tasting source of balanced nutrition for people older than 10 years of age through life, is free of lactose, milk (animal protein), cholesterol, trans fats, and gluten.
"A-Soy was developed based on the success and popularity of our Bright Beginnings™ Soy Pediatric Drink, which received an international award for being the top new pediatric nutritional beverage for children younger than 10 years old," said PBM CEO Paul B. Manning. "Developing a similar soy drink for adults and people older than 10 years was the next logical step."
Certified kosher, A-Soy nutritional drink can be enjoyed as a meal replacement or as a nutritious and filling snack. A-Soy provides complete nutrition that may help reduce heart disease risk, improve diet, and promote overall wellness.
Benefits of A-Soy Adult Nutritional Beverage
Plant-Based Omega-3 - Supports Heart Health
Excellent Source of Fiber; 5g of Dietary Fiber
6 grams of total fat per serving
FOS Prebiotics
Suitable for Vegetarian Diets
L-arginine for Wound Healing
Moderate Osmolality
For Oral or Tube Feeding
30 Calories per oz / 240 Calories per 8 oz
Kosher OU-D
Federal WIC Eligible
A-Soy is now available from Cardinal Wholesalers and will soon be available at leading retailers. The product is also being sold online: visit
www.pbmstore.com
today and buy one case, get one case free.
For more details, visit
www.asoydrink.com
or call (800) 485-9715.