Marketplace Books Releases New Guy Cohen Trading DVD Course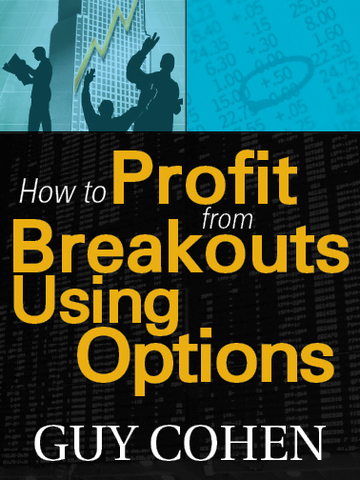 Marketplace Books proudly announces the release of Guy Cohen's new DVD,
How to Profit from Breakouts Using Stocks and Options
. As a well-known options trader and educator, Guy Cohen presents easy-to-learn tactics on flag trading and breakout options strategies. This informative DVD is geared specifically for those traders and investors who want to quickly and efficiently make money.
This course is especially valuable for trying to manage today's volatile markets; one in which faltering banks, failing corporations, and government bailouts are part of the daily news. Guy will reveal the effect that such events have on the markets. Guy also will teach which news to ignore, and which news to use to your advantage to boost your profits.
Cohen's expertise lies in how to profit from stocks that are about to break out from consolidation patterns in the market. In this course, Guy will lead you step-by-step to the right stocks and show you the basic patterns such as flags, cups and handles, and continuation patterns. You'll be able to recognize the signals and capitalize on each pattern. No matter how volatile the market may be, the patterns that Guy reveals here will allow you to make money. He uses actual charts to show you what filters expose where the smart money is, and how you can take advantage of it. His precise trading plan is one that you can use repeatedly. Providing thorough information on options trading, this DVD will help traders everywhere develop the trading skills needed for a successful trading plan.
Guy Cohen is the creator of Flag-Trader, OptionEasy, and Illuminati-Trader. He is the author of Options Made Easy, The Bible of Options Strategies, and Volatility Made Easy (2009), as well as an entertaining speaker at many trading events and forums. His widespread knowledge and experience with options trading and the stock markets are demonstrated through his trading applications. The comprehensive trading and training models he uses are designed for optimal user-friendliness.
Guy Cohen's new DVD course,
How to Profit from Breakouts Using Stocks and Options
, and his other publications are available at the lowest prices at
www.traderslibrary.com
.
About Marketplace Books and Traders' Library: Based in Glenelg, Maryland, Marketplace Books has been serving the needs of investors, financial advisors, and professional traders since 1995, often partnering with key industry players in the investment world. Traders' Library is the preferred online bookstore for Marketplace Books products.