iJobs™ Jumps To Number One In iTunes App Store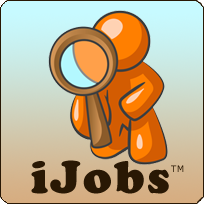 Atlanta, GA – Mobiletelligence™ today announced the iJobs™ application for iPhone and iPod Touch reached the number one paid application in the business category and is currently number 69 among all paid applications. In celebration of the inauguration of President Obama this week, Mobintelligence is offering this handy resource for job-seekers at a reduced cost.
"We wanted to celebrate this historic week and do more to help people during these tough times," said Scott McDowell, president of Mobiletelligence. "We recognize the importance jobs play not only to individuals, but to the health of the country."
With the unemployment rate at over 7 percent, iJobs has rocketed to number one within only a few days of launch. For a limited time iJobs is available for $0.99. Normally offered for $1.99, iJobs an inexpensive and convenient way to search millions of job listings.
iJobs searches thousands of sources from all over the web. It uses the iPhone and iPod Touch location services to automatically detect your location and provide customized search results by simply launching the application. You can then filter listings by category, company, job title, industry and employer type. You can even save jobs to a favorites list for future reference.
iJobs can be downloaded for only $0.99 starting today in the Apple iTunes App Store (
http://itunes.apple.com/WebObjects/MZStore.woa/wa/viewSoftware?id=300364204&mt=8
). For more information about Mobiletelligence, visit their web site at
www.mobiletelligence.com
. iJobs is part of a growing family of popular applications including iAuto™, iCycle™, iHomes™ and iPets™.
Mobiletelligence creates intelligent software for mobile devices such as the Apple iPhone and iPod Touch. Its growing family of popular titles includes iJobs™, iAuto™, iHomes™, iPets™ and iCycle™. For more information, visit
www.mobiletelligence.com