Student Chairs and Student Desks Now Available as Free Samples From Hertz Furniture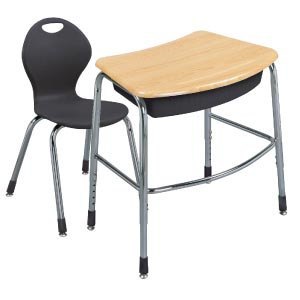 Hertz Furniture has done it again and found yet another way to anticipate the needs of school administrators and buyers, this time by offering free sample
student chairs
and student desks to qualifying organizations.
"Very often, schools would like to try new types or designs of
student desks
and chairs, but they don't have a cost-efficient way to do so," explains Mr. Saul Wagner, President of Hertz Furniture. "A free sample student chair and desk allows schools and organizations to try out a new item with no risk involved. We want to provide this offer now, so that administrators can experiment with and evaluate new school furniture before the rush season begins."
Of all school furniture, student desks and chairs get the most use, as even first graders spend a lot of their school time sitting down. Yet every school has different priorities and needs. Hertz Furniture meets those needs by continuing to develop ergonomically designed student chairs, as well as student desks that are built to stand up to years of scholastic activity.
Academia Furniture
, Hertz Furniture's school furniture manufacturing division, produces an extensive line of student chairs divided into three main series: classic, hard-plastic and Inspiration. Each series is designed to address the distinct needs and priorities that schools want to see their student chairs meet. While they vary in terms of material, design and price, all of Academia's student chairs come in a beautiful array of colors, with various leg options and with optional book racks or book baskets. Each school chair series can also be ordered as part of a chair-desk or tablet-arm combo unit.
Student desks by Academia also come in a number of models and options to suit varying needs and budgets of educational institutions. They are equipped with book boxes (metal, plastic, or wire mesh), are height-adjustable, and come in a variety of colors and trims. The desktops can be ordered in high-pressure laminate, hard-plastic, or Hertz's exclusive WoodStone top; these, too come in a choice of colors. In addition, Academia has double-desks for cooperative learning, as well as wheelchair-accessible desks for those schools and organizations fortunate enough to cater to students with special needs. For the maximum in color coordination, Academia manufactures Educational Edge desks, which color-coordinate with all of the classroom furniture in the Educational Edge line.
As part of its commitment to customer service, Hertz has made it easy and hassle-free for schools and eligible organizations to take advantage of their free student chair-and-desk sample offer. All that qualifying administrators have to do is to first browse Hertz Furniture's website to see which school chair and desk they're interested it. Then, they call and speak to a furniture specialist who will help them process their order. That's it. The free sample offer is available on all Hertz student desks and chairs, including chair-desk combo units and the Educational Edge line. And Hertz Furniture is so confident in its quality that all of their student chairs and desks are backed with a limited lifetime warranty.
About Hertz Furniture
For over 40 years
Hertz Furniture
has supplied schools, religious institutions, businesses and government offices with top quality commercial furniture and superior customer service. Speedy Quotes, many Quick Ship products, a Price Guarantee and a free Space Planning Service are just a few of the ways that Hertz Furniture provides added value to its customers. For additional information on Hertz Furniture and its extensive line of products, please visit
HertzFurniture.com
, speak to a furniture specialist at 800-526-4677, or send an email to
linda@hertzfurniture.com
.