ePrep.com Leads College Test Prep with Video-Based ACT Course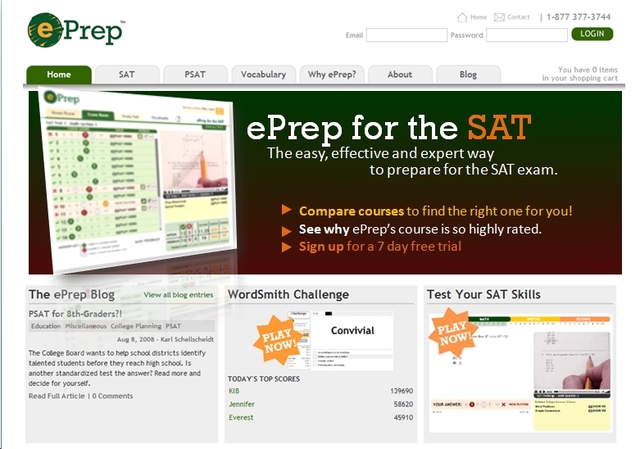 ePrep.com (
www.eprep.com
), the world's first online, video-based, test preparation company, today announced the launch of its ePrep for the ACT study programs. Following the successful launch of ePrep for the SAT study programs in 2007, ePrep continues to raise industry standards with ePrep for the ACT.
Ranging in price from $69 to $249, ePrep for the ACT study programs were specifically designed to offer students a new and better way to prepare for the ACT.
"When it comes to teaching, 'showing' is simply more effective than 'telling.' That's why parents, teachers, and coaches teach through demonstration every day," said Karl Schellscheidt, the Princeton University graduate who co-founded ePrep.com in 2005. "Unlike other online courses that offer only written answer explanations, ePrep.com study programs use streaming-video technology to model expert problem solving in the same 'paper-pencil' environment that students will face on test day."
"If you want to know more about ePrep.com, simply talk to your school's college counselor or one of the thousands of college-bound students who has successfully 'eprepped' for the SAT," continued Schellscheidt. "As a parent and life-long educator, I pride myself in offering study programs that effectively help students increase tests scores AND prepare for the academic challenges of college. I, like many parents, want more than high test scores for my children; I want them to be well-prepared for college from day one."
Using ePrep for the ACT is incredibly simple: The student prints out and completes a practice ACT test in English, Mathematics, Reading, or Science. The student then logs on to ePrep.com to:
• Submit answers for electronic grading; and
• Launch into a guided video review.
Students can also:
• Review recommended video lessons in each of the four subject areas in a STUDY HALL powered by ePrep AnalyticsTM; and
• Build a large and varied working vocabulary with ePrep WordSmithTM, ePrep.com's interactive vocabulary builder.
ePrep's management team is comprised of experts in standardized test preparation, secondary and college-level education, e-commerce, web development, and streaming video technology. The company's advisors and guest blog experts include: Don Betterton, former Director of Financial Aid for Princeton University; Fred Hargadon, former Dean of Admissions for Princeton University, Stanford University, and Swarthmore College; and Seamus Malin, former Assistant Dean of Admissions and Director of Financial Aid for Harvard University.