Loyal Army Signs Licensing Deal with Jerry Leigh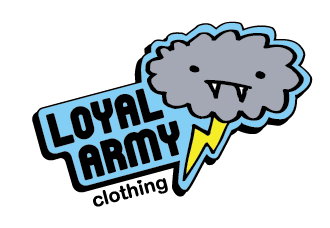 San Jose, Calif. – (February 6, 2009) - Jerry Leigh, one of the industry's leading apparel manufacturers, has entered into a licensing agreement with Loyal Army Clothing and Creative Brands Group, to license, manufacture, market and distribute Junior Apparel and Junior Lounge Wear in high-end department stores and specialty retail.
The collection is based with a variety of body styles and designs and will launch at WWD Magic in February 2009 at booth JR11309.
"It is so exciting to partner with a company that can truly make Loyal Army the brand I have always dreamt it could be," said Brian Dold, founder and CEO of Loyal Army. "Everyone at Loyal Army is so elated with this amazing partnership!"
"We are thrilled to collaborate with Brian Dold on the future of this incredible brand", said Andrew Leigh, President of Jerry Leigh. "Brian's unique creative sensibilities coupled with our state of the art manufacturing capabilities will deliver a new type of Loyal Army Clothing to its fans."
About Loyal Army
Loyal Army Clothing was established in late 2005 by designer Brian Dold who wanted to create a new kind of t-shirt company for the Tween fashion market in the US. Together with a short list of creative and driven teammates, the goal was to create a t-shirt that sparks conversation and leaves its mark on the Tween fashion market. With a San Francisco based production facility in place, a well thought out marketing plan and hundreds of ideas for graphics, Loyal Army was launched and has since expanded with development into the Infant, Toddler and Girls 7-16 apparel categories, designing and producing t-shirts, hoodies, fashion knit bodies and an assortment of canvas accessories. The brand has firmly established it's presence as the "go-to" brand for girls of any age with exposure in over 4500 retail outlets worldwide. For more information, visit
www.loyalarmy.com
About Jerry Leigh
Jerry Leigh, established in 1962, is a family-owned clothing designer, manufacturer, and brand management company with a philosophy of designing fashion that reflects consumer's lifestyles, utilizing a wide range of brands and licenses. With over 750 employees worldwide, Jerry Leigh distributes to retailers at all tiers of distribution, from boutiques to mass market, and manufacturers apparel for toddlers to adults. Top licenses Gwen Stefani's Harajuku Lovers, Abbey Dawn by Avril Lavigne, Paul Frank, Rachel Ashwell Shabby Chic, Disney Classic Characters, Hannah Montana, High School Musical, Jonas Brothers, Coca-Cola, Fender, Bon Jovi, Wizard of Oz, Supergirl, Omnipeace, VH1, Betty Boop, Nickelodeon, Ford, and It's Happy Bunny.
www.jerryleigh.com
About Creative Brands Group
Creative Brands Group, Inc. is a brand development and licensing management company located in San Jose, CA, with branch offices in Santa Barbara, Atlanta and Tokyo. CBG works with a wide range of celebrities, artists, designers and corporations to quantify, develop, manage and maximize their brands, managing an extensive portfolio of active contracts with manufacturers, distributors and retailers around the world. Clients include: Heidi Klum, Kitson LA, Wilmer Valderrama, Thalia, Myrka Dellanos, Rachael Hale "The world's most lovable animals", LIFE Magazine, Mark Nason, 2 B Free and Glamajama clothing and the well known painter Thomas Kinkade.