New For 2009 - Stylish Safari Tents From Eurocamp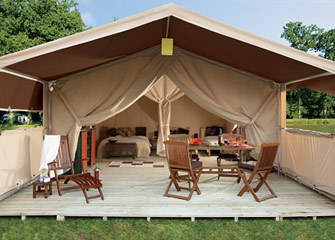 The most stylish campers amongst us are sure to go wild with Eurocamp's brand new safari tent accommodation when they go on sale on Monday 9 February.
The fantastic tents are exclusive to a small selection of Eurocamp's most naturally beautiful parcs in France and Italy. They are located in peaceful areas set away from other accommodation, which makes safari tent holidays a perfect escape from the hustle and bustle of modern life.
The ultra stylish safari tents offer plenty of living space with authentic wooden flooring throughout the elegant interior, leading onto the large decked terrace which is shaded by a huge canopy. This accommodation is perfect for embracing the best that nature has to offer while enjoying the luxury interior.
Providing the freedom of camping without compromising on comfort and quality, each luxury safari tent offers two bedrooms – a master and twin – as well as a fully equipped kitchen.
Outdoors, quality teak furniture and a barbecue are also provided to make the most of this unique outdoors living experience and help you enjoy the stunning natural surroundings.
Safari tents
are located at:
La Croix du Vieux Pont, Berny-Rivière, Paris
A beautifully situated parc in the Ainse Valley – located beside a gently flowing river, housing three lakes and near to the forest of Compiègne.
L'Ardéchois, Vallon Pont D'Arc, Ardeche
Set amidst the Ardèche gorges and on the banks of one of the most beautiful stretches of the Ardèche river and just a short walk from the Vallon Pont d'Arc.
Le Moulin de Paulhiac, Daglan, Dordogne
Situated in the very heart of the Dordogne – with its rolling wooded hillsides, sleepy honey-coloured villages, crumbling old farmhouses and castles in abundance - this verdant, rural parc is set amidst the shade of walnut, oak and apple trees.
Il Collaccio, Castelvecchio di Preci, Lazio
Located amongst the lush splendour and tranquillity of Umbria – the 'green heart' of Italy – this parc is surrounded by the wooded hillsides and steeply sloping meadows that the region is famed for.
As well as their natural beauty, each of these Eurocamp parcs also offer their own friendly charm, great swimming pool complexes, a huge selection of high standard free activities and they are also the perfect base for exploring the local countryside.
A seven night break at Eurocamp's La Criox du Vieux Pont parc in Berny-Rivière (arriving 27 April), for a family of two adults and two children, staying in a fantastic Eurocamp Safari Tent costs just £240, accommodation only.
Alternatively the same holiday during the school summer holidays (arriving 21 August), will cost just £690, accommodation only.
For further information on Eurocamp please call 0844 406 0552 or visit
www.eurocamp.co.uk
Email Eurocamp Camping holidays