Music Room Furniture Special From Hertz Furniture Offers Schools Quality Options Despite Budget Cuts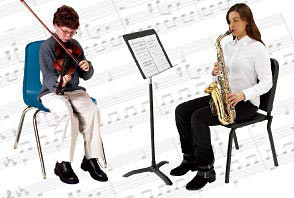 In plenty of time for graduations and end of year performances, Hertz Furniture is offering significant savings and great warranties on all
music room furniture
and equipment.
"Everyone has been hit hard by the worldwide recession, and that includes institutions of all kinds," explains Mr. Saul Wagner, President of Hertz Furniture. "While schools are cutting back, there are certain events that are difficult to limit, among them graduations and end of year performances. We are offering our Music Room Special promotion now, so that schools and other organizations can plan their end of year budgets in an organized manner, despite the financial crunch."
Hertz Furniture carries a full line of
music room furniture
for all performance needs. Music chairs that support proper posture, music stands, music and instrument storage cabinets in a wide variety of sizes, portable stages, stage skirting and choral risers are only some of the items available now at significantly discounted prices of up to 46% off the list price.
While other music room furniture manufacturers, such as Wenger, offer warranties of up to five years, Hertz Furniture provides a minimum fifteen year warranty on everything it sells, including all its musician chairs and music storage cabinets. In addition, all music storage cabinets sold by Hertz Furniture are fully customizable, and musician chairs made by National Public Seating can interstack with other brands, including Wenger. Added Mr. Wagner, "By combining great products with the best warranties in the industry, Hertz Furniture makes it easy for buyers to know they're getting the best music room furniture and equipment for their money."
Hertz Furniture also offers free design services to help customers create optimal layouts for stages, risers, music rooms and auditoriums. Plus, our Quick Ship program is now available on all stages manufactured by National Public Seating, so they ship out within five days.
Hertz Furniture's music room furniture is made exclusively by top quality manufacturers such as NPS, Randal Display and TCC, as well as other major brands. We welcome both small and large orders, and our music room furniture experts are available for either phone or chat consultations to ensure that you get precisely the music room furniture you need. Feel free to compare prices; you'll be surprised.
The Music Room Special Promotion is available from Hertz Furniture on all offers approved for processing from January 22, 2009 through March 31, 2009, and is open to all Hertz Furniture customers. Free music chair samples are also available for qualifying organizations.
About Hertz Furniture
For over 40 years
Hertz Furniture
has supplied schools, religious institutions, businesses and government offices with top quality commercial furniture and superior customer service. Speedy Quotes, many Quick Ship products, a Price Guarantee, a free Space Planning Service and the best warranties in the industry are just a few of the ways that Hertz Furniture provides added value to its customers. For additional information on Hertz Furniture and its extensive line of products, please visit
HertzFurniture.com
, speak to a furniture specialist at 800-526-4677, or send an email to
linda@HertzFurniture.com
.