Anthony Paul Gives A Garden Design Masterclass at The Oxford College of Garden Design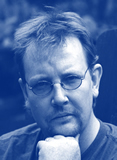 New Zealand-born, Anthony Paul, who now works from his design studio and own garden in Ockley, Surrey, shares the same design philosophy as Duncan Heather, founder and principal of the Oxford College of Garden Design.
"The way a garden sits in the landscape is my main concern," he says. "I sometimes feel that I fill the foreground like a stage and the background is done by a far bigger hand than mine."
Anthony will spend the morning giving a lecture on this design philosophy and the afternoon running a critique on the students' own work on their third and final project which is the design of a rural smallholding in the Chiltern Hills outside Oxford, complete with peacocks and pot-bellied pigs.
Now rated as one of the world's top designers, Anthony is known for creating very natural landscapes, using simple palettes and plants that look natural, whatever the environment he is working in.
He and his wife, Hannah Peschar, have created an internationally famous garden at their home, The Black and White Cottage, which also provides the perfect backdrop for The Hannah Peschar Sculpture Garden, showcasing contemporary art in a naturalistic setting.
"I like working closely with artists and technicians for my projects and my 2003 garden at Westonbirt Arboretum is a good example of this," he adds.
Westonbirt, near Tetbury, Gloucestershire, is one of the UK's top horticulatural attractions. Established in 1829 by Robert Stayner Holford and now managed by the Forestry Commission, it sprawls some 600 acres and is home to around 18,000 trees and shrubs, including many rare plants.
The Oxford College of Garden Design students spend a day at Anthony's Black and White Cottage as part of the photography training they are given on the course and having walked away feeling inspired, this often becomes the first of many return visits for the graduates, throughout their design careers.
Anthony Paul shares a very similar design ethos to the founder and Principal of the course, UK garden designer Duncan Heather, who argues that the single most important job for anyone working in landscape design is to integrate the building with its environment: "By providing a good and comprehensive design education, we believe our graduates can work on any style of project and any age of property in any part of the world," he says.
About the Oxford College of Garden Design.
Duncan Heather set up practice as a garden designer in 1987 and is the director of the prestigious Oxford College of Garden Design which offers a year-long Postgraduate Diploma in Residential Landscape Architecture, now widely recognised as one of the best garden design courses in the world see more at
http://www.garden-design-courses.co.uk
. In a career spanning over 30 years, he has won five gold medals, one silver, one bronze and three awards for innovative design.
Email The Oxford College of Garden Design