Weblinguas Web Portal offers a free tool for language learning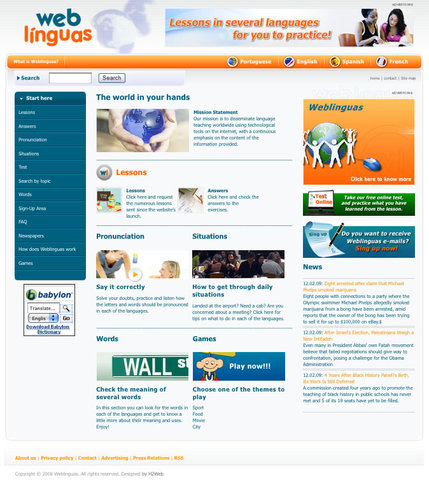 Centro Latino de Idiomas (CLL) and H2Web have just launched the second version of the -
www.weblinguas.com.br
– web portal, aimed at complementing traditional language teaching such as English, French, Spanish and Portuguese, all of them encompassing basic, intermediate and advanced levels.
It is quick and easy to start. Users sign up, chooses the language they want to learn and the level they are on. From that moment on, the student receives free weekly lessons by email, with answers posted daily on the webpage. Furthermore, the web portal is a useful aid to learning and a rich reference source, as the user can search for previous lessons by topic.
On the webpage, students will also find several areas where they can practice the targeted language. Features include day-to-day scenarios with instructions on what to do, pronunciation drills for specific words, a search engine to find subjects of interest to students, educational language practice games and a word meaning search in the glossary which the Weblinguas team will develop and update continuously.
Since the launching of the first version in 2000, over 200,000 people have signed up to improve their language skills.
To learn more:
Courses held at your company or at our location (São Paulo).
Preparation for seminars, workshops and travel training.
Eight-hour/day immersion programs for those who need to learn the language fast.
Large group training, offering specific programs targeted to each company's objectives.
School-oriented programs.
Services:
In the market for over 15 years, CLL – Centro Latino de Línguas is a language center with broad experience in customized services, whether to individual students or to corporate accounts. We offer Spanish and Portuguese classes for foreigners as well as simple or sworn translations (Spanish and English).
Email Estúdio de Comunicação