Private Developer, Government and Civic Organizations Partner at The Ponds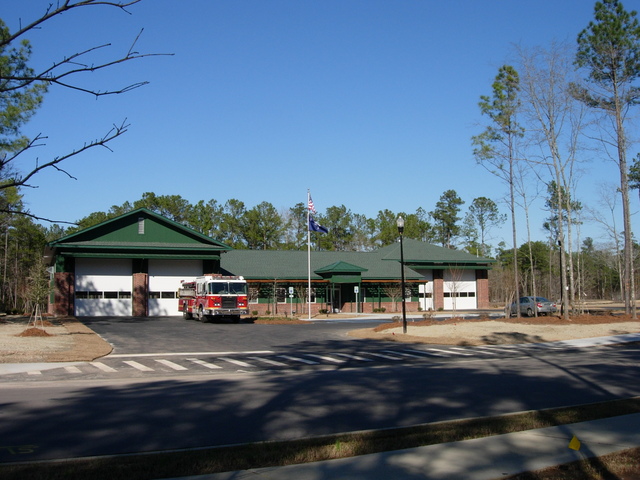 Summerville, S.C., Feb. 18, 2009 – Greenwood Communities and Resorts, developer of The Ponds, is proud to announce the opening of new facilities for the Summerville Family YMCA and Dorchester County Fire/EMS/Sheriff's departments, both located at
The Ponds
. These entities are the first of their kind in Dorchester County, as both were made possible through innovative partnerships between a private developer (Greenwood), public organization (Summerville Family YMCA and Old Fort Fire Department, respectively) and Dorchester County.
The new facilities mark the beginnings of a civic corridor planned for The Ponds, a 1,950-acre master-planned community just outside historic Summerville S.C. "This civic infrastructure is part of our commitment to The Ponds residents and Dorchester County," said John Morgan, Greenwood's general manager for The Ponds. "We care deeply for our residents and want to ensure their quality of life is unparalleled; at the same time, we want to invest in our immediate surroundings and do our part to enhance the area. The YMCA and Fire/EMS/Sheriff's substation allow us to do both."
YMCA at The Ponds
Designed by architect Rush Dixon and built by Trident Construction, the new
25,000-square-foot YMCA at The Ponds
is a branch of the Summerville Family YMCA. The facility features a gymnasium, Kids Zone area, free child watch services, fitness rooms and a combined cardio equipment and weight room. In addition to the indoor amenities, the new YMCA features a fenced-in playground and roughly eight acres of outdoor space that can be used for sports and youth camps.
Like the rest of The Ponds, the new YMCA is highly functional without sacrificing aesthetics. Architecturally the building resembles a barn and silo, blending beautifully into The Ponds' natural setting. Greenwood has preserved 1,100 acres of the community and restored an original circa-1840s farmhouse for residents to enjoy.
"None of this would have been possible without the assistance of Greenwood Communities and Resorts," says Kim Taylor, COO and Branch Director for YMCA at The Ponds. The $5.2 million project was funded almost entirely by Greenwood, who donated $3 million toward construction costs and $1 million in land.
Fire/EMS/Sheriff's Substation
In similar fashion, Greenwood funded much of the new Fire/EMS/Sheriff's substation, donating land valued at $450,000 and $500,000 toward construction costs. The remainder of the $1.71 million project was financed by Dorchester County.
The 8,204-square-foot facility will service more than 24,000 Dorchester County residents. Benefits will include reduced EMS response times, improved Insurance Services Office (ISO) ratings for fire protection, as well as reduced homeowner's insurance premiums. "We achieved our overriding goal of improving the quality of service provided to the citizens of Dorchester County," said Jamie Feltner, Chairman of Dorchester County Council.
"We are particularly appreciative to Dorchester County officials for allowing and encouraging the state-of-the-art architectural design found in the new building," said Morgan. "It blends nicely within The Ponds and shows that highly functional, utilitarian structures can also be aesthetically pleasing."
The station will offer 24-hour staffing and regularly patrol the property throughout the day and evening, assuring peace of mind for residents of The Ponds.
A Civic Corridor in Progress
Greenwood has also set aside 40 acres of land for a proposed K – 8 public school under Dorchester County District 2. Once all approvals and funding are in place, the school complex will neighbor the YMCA and Fire/EMS/Sheriff's substation. Other civic uses allowable in the planned community under its development agreement with Dorchester County include churches and community recreational areas.
The primary civic corridor, including the YMCA, Fire/EMS/Sheriff's facility and school site, is located at the heart of the community for all to enjoy. "Master-planned communities must have multiple components to service health, recreational, educational, spiritual and cultural interests of residents, so we are pleased to be well on our way to satisfying such needs at such an early stage at The Ponds," stated Morgan.
About The Ponds
The Ponds is a 1,950-acre
master-planned community set between the town of Summerville and the Ashley River Historic District
. In addition to a 1,100-acre nature preserve, residents of The Ponds will enjoy the benefits of an onsite Summerville Family YMCA, EMS/Fire/Sheriff's substation and village center with retail and shopping.
The Ponds' residential offering includes custom homesites priced from the low $100s and single-family homes priced from the high $200s. Several homes are now complete, and the first residents have moved in. Also complete is the first of four amenity complexes, including a pool, outdoor pavilion, waterfront outdoor amphitheatre, 11-acre multi-purpose field and a restored historic farmhouse. A 60-plus-mile sidewalk and trail system connecting to The Ponds' 1,100-acre nature preserve will be phased in as development progresses. For more information, please call 843.832.6100 for details, or register online at
www.DiscoverThePonds.com
for ongoing updates.
About Greenwood Communities and Resorts
Greenwood Communities and Resorts, based in Greenwood, S.C., is a leader in the creation and management of award-winning residential and resort communities in the southeastern United States since 1978.
The company has achieved success over the years because of steady, consistent and reliable service to its customers and its communities. Beginning with the award-winning Palmetto Dunes Resort at Hilton Head Island and evolving to current communities like The Ponds, Big Canoe near Atlanta and The Reserve at Lake Keowee, Greenwood's mission has remained the same: Create memorable places that foster meaningful and fulfilling lives.
Greenwood has been actively involved in the Charleston market for almost 20 years, successfully completing Coosaw Creek Country Club in North Charleston and Beresford Hall on the Cainhoy Peninsula in Charleston.
For more information, please visit
www.greenwoodcr.com.
Email Greenwood Communities and Resorts