New Chalkboard Beer Tap Handle from Kegerators.com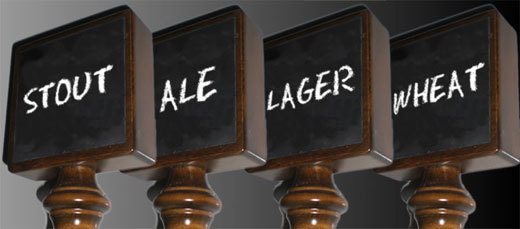 It's always the first thing any parched patron asks when they belly up to the bar for a beer, "What's on tap?" Staying true to its beer roots, the founders of Kegerators.com introduce a new translation in the world of draft beer tap handles in the form of a chalkboard beer tap handle that won't confuse the everyman, but will help adult beer drinkers determine what is on tap with ease.
The beer tap handle has been around since the 1800s. For nearly as long, adults have attempted to decipher what beer lies beneath lavish tap handle designs.
"The beer tap handle is a great marketing tool, but it often results in something closer to confusion than good marketing," says Christian Lavender, a kegerator expert and bartender who hails from the United States. The chalkboard tap handle sits atop the beer faucet and allows the beer patron to easily read the beer's name or type, resulting in a clear message. "It seems too simple, but sometimes less is more," Lavender says.
The tap board's magic comes from a chalkboard erasable surface that allows the bartender to write in whatever he's got on tap. Here's how to use it:
1) Choose a beer to serve.
2) Write the name on the tap board with chalk.
3) Drink. Erase. Repeat.
"This is a great interchangeable tool for bars that have rotating or seasonal beers on tap," says Jeremy McKnight, brand manager, TapBoards.com, "and it really saves bars and home brewers a bunch of money. Fewer branded tap handles have to be purchased in the end."
Additional information on the Tap Board can be found at the
www.TapBoards.com
website.
Kegerators.com,
www.kegerators.com
, is a free online resource for consumers to search, compare, and buy kegerators online, featuring the largest selection of draft beer dispensers from the nation's largest manufacturers. The searchable and easy-to-navigate website arranges kegerators by category, such as single tap, multiple tap, under counter, outdoor, home brew and Guinness kegerators. Consumers can also search for kegerators by type or by brand.