Toyota Tundra Resale Value Likely Falling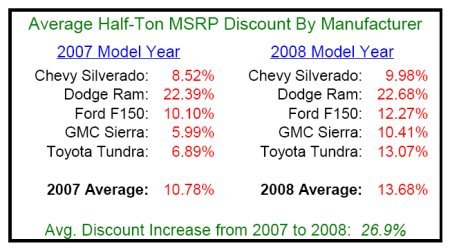 Toyota Tundra enthusiast Web site
www.TundraHeadquarters.com
has uncovered data that indicates the Tundra's resale value is likely to fall.
According to data released by AutoBrag.com, the average price discount on a new Toyota Tundra increased nearly 90% between 2007 and 2008. The average discount on a new large pickup truck increased 27% in this same period, meaning that discounts on the Toyota Tundra out paced the industry by a factor of three.
Resale value and new vehicle pricing are closely related. Heavily discounted new vehicles rarely enjoy above average resale value.
Recent studies from Kelly Blue Book (KBB.com) and Edmunds (Edmunds.com) both declared the Tundra as having the best resale value of all half-ton pickup trucks, but this new pricing data from AutoBrag.com could indicate the Tundra's resale value is falling.
For more information, visit
http://www.tundraheadquarters.com/blog/2009/02/23/toyota-tundra-resale-value-drop/.
About TundraHeadquarters.com: TundraHeadquarters.com is a Web site dedicated to providing news, accessory information, and product reviews for Toyota Tundra owners and enthusiasts. TundraHeadquarters.com is not affiliated with Toyota Motor Company, Toyota Motor Sales USA, or any Toyota subsidiary. 'Tundra' is a trademark of Toyota and is used solely to describe the subject of interest on TundraHeadquarters.com.
Email TundraHeadquarters.com