RSI and ConverTec Announce Landmark Agreement To Deliver Unified Communication Applications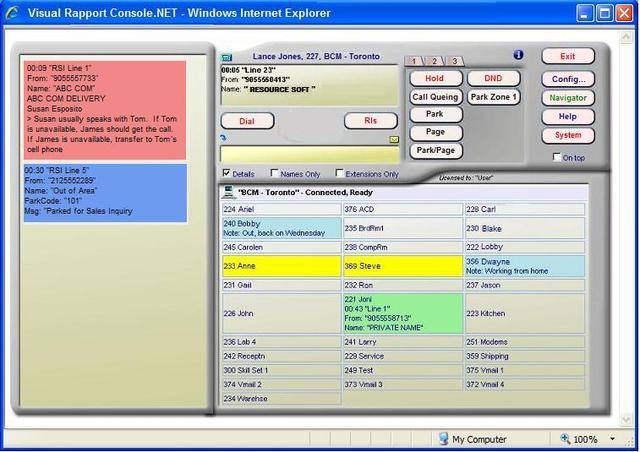 OSHAWA and BURLINGTON, ONTARIO – February 25, 2009 - Resource Software International Ltd. (RSI) and ConverTec Inc. jointly announced today a landmark technology transfer and branding agreement. RSI will add the ConverTec desktop productivity and console applications to their Total Communication Management Solutions (TCMS) portfolio.
The agreement will facilitate the market acceptance and expansion of a complete umbrella of applications designed for Nortel telephony platforms. By combining RSI's broad distribution network and TCMS portfolio with ConverTec's best in class unified communications productivity applications, the alliance will allow both parties to create and deliver advanced technologies more rapidly to their customers.
Under this agreement, RSI will have the exclusive right to brand and distribute ConverTec applications to major Nortel channels. These products include:
Visual Rapport Console.NET enables attendants who are answering calls for single and multi-site campus environments to represent the company image to a caller in a more informed and professional manner. VR Console.NET leverages the inherent VoIP networking capabilities of Nortel's BCM platform by providing a powerful business application capable of not only viewing the real-time status of all extensions of an enterprise, but also by providing browser based call control capabilities across the organization.
Visual Rapport Integrator eliminates the need to juggle multiple applications and simplifies the user desktop by integrating the BCM or Norstar telephone to an unobtrusive desktop toolbar. Through the use of VR Integrator, Norstar Modular ICS and BCM 50 users become more efficient, and better able to convey a sense of competency to their colleagues and customers, resulting in higher quality interactions and improved customer satisfaction.
Visual Rapport Navigator brings integrated telephony for BCM and Norstar to the desktop, adds intelligence, and simplifies daily telephone activity, while the innovative interface enables users to tailor VR Navigator to their needs. Whether you're a receptionist who needs to see employee real-time call activity, a Call Center Agent who needs customer information before answering calls, or a knowledge worker who needs to see both, VR Navigator provides the tools employees need to be successful.
Visual Rapport Analyzer is a browser based managerial tool which allows an enterprise manager to more effectively manage his or her telecommunication facilities by quickly and easily producing reports based upon telephone calls in and out of an office.
"This agreement unifies the expertice of both ConverTec and RSI allowing us to focus our efforts on what we both do best.", said Rito Salomone, President, RSI "We believe this is a win-win-win situation for our collective companies, our channel partners and our customers."
"RSI has an excellent reputation in the industry along with well established channels to the market", said Doug Moffat, President of ConverTec. "The SMB market place is looking for cost effective solutions which improve their efficiency and their competitiveness. We have those solutions and we look forward to working with RSI to provide them and their customers with robust Unified Communication applications."
About ConverTec Inc.
ConverTec Inc. is widely recognized as a global leader in developing innovative desktop applications for Nortel's Business Communications Manager and Norstar platforms. Through the use of ConverTec solutions, businesses are able to deliver higher levels of customer service by optimizing their existing resources and technology. One of Nortel's original Developer Partners, ConverTec has a close relationship with Nortel which facilitates a cohesive product development strategy.
About Resource Software International Ltd. (RSI)
Founded in 1990, RSI is a developer and manufacturer of leading-edge communications management solutions. The company offers a wide range of other products including: call accounting, hotel/motel management, ACD reporting, CCR, Voice Mail and IVR reporting, CTI applications and rebilling outsourcing services. As an original member of the Nortel Developer Partner program, RSI boasts a large portfolio of Nortel Compatible Products and co-branded solutions. Nortel Activity Reporter is a jointly designed solution by Resource Software International Ltd. (RSI) and Nortel. The product is designed to provide system metrics for BCM 50 Rls. 3.0 (and later) / BCM 450 (and later). . It produces text and graphical reports based on station message detail recording (SMDR), hunt group, voice mail and custom call routing information.
More information can be found at
www.telecost.com/nortel
Email Resource Software International Ltd. (RSI)