KPA Group's Skills Lauded by San Francisco International Airport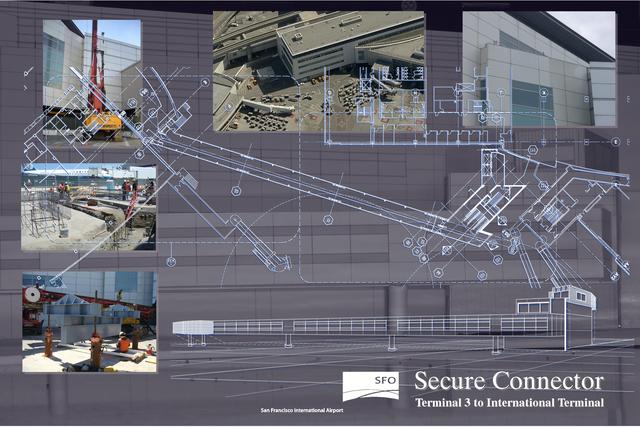 Oakland, California - The KPA Group has been recognized and appreciated for its near flawless architectural engineering services for a new 400-foot long Secure Connector at San Francisco International Airport. This passageway opened in January 2009, within a year's time from start of design.
The structure connects passengers between Domestic Terminal 3 and the International Terminal's Boarding Area "G". The California based Structural engineering and architectural firm has over two decades of experience and specializes in architectural design, aviation planning and seismic evaluations / retrofits.
Raymond Quesada, Project Manager, Bureau of Design and Construction at the San Francisco International Airport recognized KPA's contributions to the design and construction support of the new 400-foot long Secure Connector which is the Airport's first project utilizing a Design-Build delivery method. Hensel Phelps is the builder for this project.
In a written thank you note addressed to the principals of The KPA Group, Quesada said, "The Secure Connector is a true success…opening ahead of schedule and under budget, it is a beautiful structure that blends in perfectly with the surrounding building. From across the airfield where the Secure Connector can best be seen in context with Terminal 3 and Boarding Area G, it appears as if it was always there. The interior design is also in such harmony that passengers walking through will not be aware of having left one building and entered another."
He went on to appreciate the KPA Group's expertise saying, "Another important factor instrumental in the project's success was that the KPA team challenged the scheme we issued in the RFP and came up with a scheme that was superior and workable. You accomplished this within the extremely limited design schedule the project allowed. Truly amazing and to the ultimate benefit of the Airport and its passengers! With the multitude of projects you have been involved with at SFO, you have truly contributed to the Airport's overall success."
Hratch Kouyoumdjian, founder and principal, The KPA Group says, "The KPA Group has a reputation for creativity, high levels of personalized services, rapid responses to field issues and a constant quality of service that clients can count on. It was this distinct client focus that we drew upon, in our scoping, planning, implementation and overall delivery of the SFO Secure Connector project. That we went beyond the client's expectations is a matter of our single-minded focus and core ambition rather than pure chance. Our organization enjoys a 70% repeat business and long term relationships with important clients like the San Francisco International Airport. KPA's values and commitment to service guide all our efforts as we continue to expand the firm's experience and reputation."
The KPA Group's projects include significant completed major projects in multiple western US states and internationally in Asia and the Middle East. The firm's work portfolio includes responsibilities for many unique and significant structures and projects – having completed over 100+ projects in aviation / airports, 100 projects in seismic evaluations / retrofits, and numerous multiple assignments for many universities, developers, municipalities and state agencies. The firm's largest structural project is in excess of $300 million. The single largest structural design-build project by KPA is the Alameda Juvenile Justice Center; a $176 million complex. The Historic Oakland Fox Theater renovation valued at $83 million is The KPA Group's largest seismic retrofit project involving responsibilities of structural engineering.
About The KPA Group:
The KPA Group was founded in 1987 by Hratch Kouyoumdjian, SE, as a structural engineering consulting practice. The firm evolved to offer architectural services in 1992 when Robert Riegel, Architect & SE joined in. In 1996 Michael Shanus Architect and Professional Engineer, joined the practice and further increased the firm's capabilities in aviation planning, airline facilities and renovation work. In 1995 Dipak Patel SE, joined the Group adding his very extensive building design experience. These four principals have directed The KPA Group and set values and a vision that focus on serving clients competently and honestly.
As a leading structural engineering, aviation planning and construction design firm, KPA maintains high levels of technical capabilities and extensive experience in major building types. Projects delivered by the firm include both design of new facilities and retrofits of existing facilities. The firm enjoys 20 years of uninterrupted practice, and has completed construction in excess of $1 billion with a claims free record. The KPA Group today is a select, competent group of dedicated professionals all of whom are LEED accredited. As an integrated practice, the firm offers efficiency, a single point of management and direct focus on servicing client needs with creative and timely construction engineering planning, design and build solutions. For more information, please call 510.271.6701 or send an email to
info@thekpagroup.com
.